MTN Ghana has taken legal action against the National Communication Authority(NCA) over what the telecom giants describe as a move by the regulator to clip its wings.
The NCA said there was some form of monopoly being enjoyed by MTN and they wanted to solve that issue by levelling the playing field.
MTN has released a statement and said they have had "largely encouraging" discussions with the regulator but the NCA was still persisting with the plans.
Portions of the statement read: "MTN Ghana would like to inform its stakeholders that the company was formally notified on June 9th, 2020 of the National Communications Authority (NCA) decision to declare MTN as a Dominant/ Significant Market (SMP). This essentially means that special regulatory restriction would be enforced to potentially limit the company's growth, performance, innovativeness and its competitiveness in the telecoms market".
MTN has called the government's move "unfair" and said the decision to go to court, was a "difficult" move and "a last resort" taken "after much consultation".
READ ALSO: MTN records 62% profit growth in 2020 1st quarter
MTN stressed that while it is within the power of the NCA to promote competition, the steps taken by the regulator should follow applicable law and international best practices.
The company which recorded GH¢1 billion in profit for 2019 after tax insisted it had not engaged in any "anti-competitive behaviour" and expressed regret at the manner in which the NCA was proceeding to clip the wings of Ghana's number one mobile network.
Selorm Adadevoh said despite the suit, MTN Ghana remained open for talks.
Below is the statement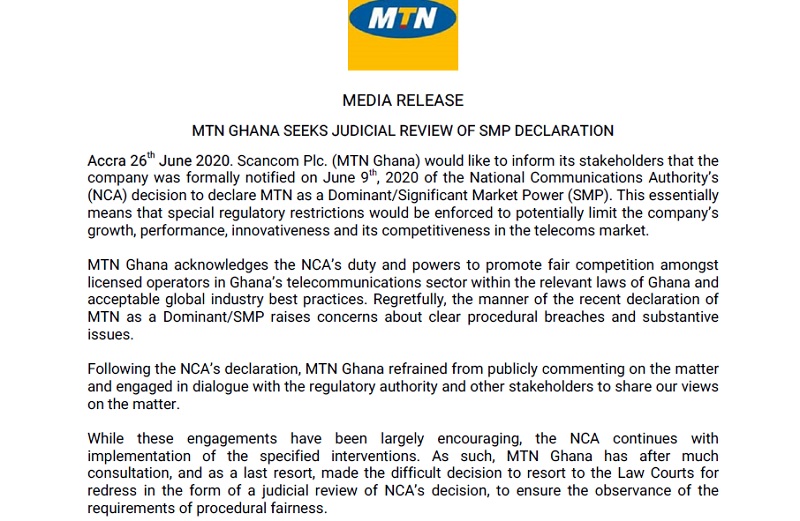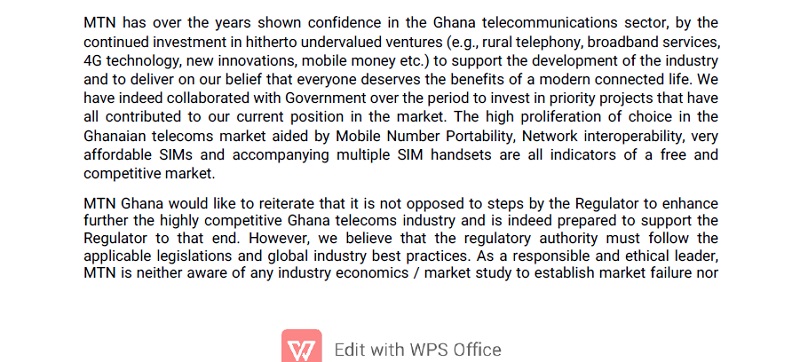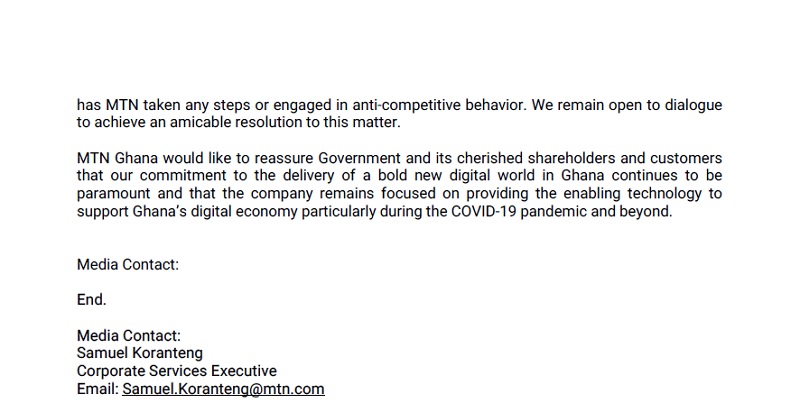 The Ministry of Communications on June 9, 2020, announced that the telecommunication industry was facing "glaring disparities" and "imbalances" which it said was unhealthy for competition.
It said MTN held 75% of the market share while three other telcos, AirtelTigo, Vodafone and Glo to scrabble over 25%.
The Ministry said the move should not be seen as a punishment, but a correction.
The statement indicated that it was not singling out MTN, explaining all other operators which were once dominant in the past had their wings clipped.