Chiefs and people of 5 communities in the Amansie South District in the Ashanti Region have served notice they will resist all forms of political campaigns and voting processes until the town is connected to the electricity grid.
Led by their chiefs they poured unto the streets demanding electricity before the December elections.
They say promises by successive governments have not yielded any results. Communities in the district have not seen electricity for a long time.
Notices have been mounted at vantage points indicating 'No Light, No Vote'.
READ ALSO: Non-payment of salaries, unfair termination of employment contracts top cases filed at National Labour Commission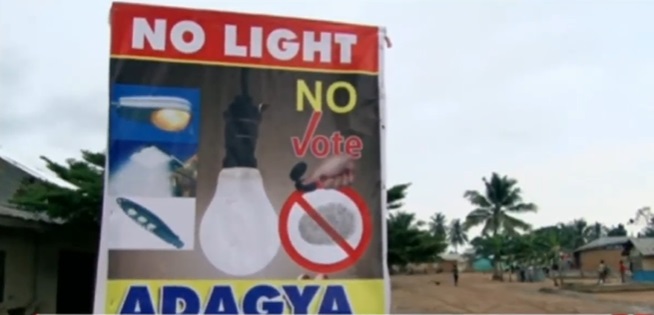 Some youth in the area speaking to Luv FM said: "When we are learning at night we suffer, some use torchlight to study and that is risky"
An opinion leader in the area also said: We were promised in 2015 that we will be connected to the national grid, we have not seen anything since then, so if we don't see any sign we will not vote.
The Chief of Adegya served noticed that they will also not allow any form of campaign by political parties in the affected towns until they are connected.
"Successive governments have failed us but if we don't see light in our towns nobody should campaign here, we won't vote, let Nana Addo know that".