Salifu Saeed, the Northern Regional Minister has banned prostitution in Tamale and its environs.
Even though prostitution is illegal in Ghana Mr Saeed says this will help to curb the spread of COVID-19 because social distancing is key.
He addressed the media this afternoon and pleaded with the Chiefs and people of the North to help enforce this ban in these trying times.
READ ALSO: Pictures of Guniea COVID-19 escapee not out because we fear she will be lynched - Salifu Saeed
"I am pleading with the Chiefs and people of the North to observe this, I want to ban prostitution now, this can help us observe social distancing. Those involved in the practice and its related activities within the region are therefore advised to seize any engagement in those acts, forthwith. Those who defy this directive will be dealt with strictly in accordance with the Laws of the Republic".
After the presser, the Northern Regional Co-ordinating council released a statement to back Mr Saeed's call.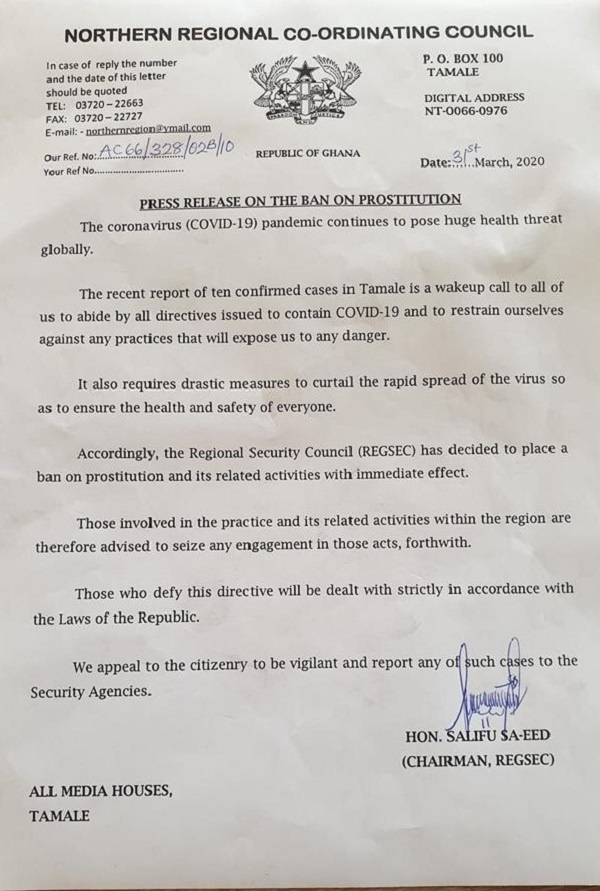 Mr Saeed also gave an update on their search for a 21-year-old Guinean national who tested positive for COVID-19 but escaped from quarantine.
"Since Monday up till Tuesday morning, I have not slept, with my security people. I directed that they should use all their networks to be able to track the person down and get her our search is still on and we hope to get her soon."
Ghana's COVID-19 cases keep rising as it is now 195. 3 persons have been discharged after testing negative.
18 persons are at home and responding to treatment and 80 persons are at the treatment facilities.