Otumfuo Osei Tutu has pledge to collaborate with the Founder and Leader of the Kristo Asafo Mission and brain behind the Kantanka Group, Apostle Dr Kwadwo Safo, to establish a technical school in the Ashanti Region(A/R).
He said this while addressing the gathering at the launch of Kantanka's armoured vehicle with rangefinder at the 38th annual Technology Exhibition of the Kantanka Group in Accra last Sunday, December 30, 2018.
The school, he explained, would help sustain Apostle Safo's "wonderful works" to benefit generations to come and contribute immensely to the development of science, technology and creativity in the country.
While describing the celebrated inventor as a wonderful person whose works were beyond comprehension, the Asantehene expressed concern about the lack of interest by the state and academic institutions to tap into Apostle Safo's developmental agenda.
He said he was committed to changing the narrative.
"The works of Apostle Kwadwo Safo go beyond science.
Every year, he comes out with mysterious inventions, yet we have not bothered to go to him to seek an explanation as to how he goes about his inventions''.
''There is something special in him that we must tap and that moment is now,".
The Asantehene purchased two Kantanka pick-ups at the event.
He called on the Council for Scientific and Industrial Research (CSIR) and all scientists in the country to take urgent steps to consult Apostle Safo for some explanation on how he came up with his creations in a bid to broaden knowledge in science and creativity in the country.
Otumfuo Osei Tutu encouraged Apostle Safo to persist in his hard work, in spite of the limited support offered him by the state.
He also encouraged the citizenry to prioritise the purchase of made-in-Ghana products "if we really want to end the cycle of economic hardships that have bedevilled the country".
The Kantanka Technological Centre of Excellence (KTCE), a subsidiary of the Kantanka Group of Companies, has made another technological breakthrough in its operations with the launch of an advanced armoured vehicle fixed with a laser rangefinder.
READ ALSO:Kantanka Automobile to hit market with electric vehicles
The launch took place at the 38th annual Technology Exhibition of the Kantanka Group in Accra last Sunday, during which an array of products manufactured by KTCE, which is located at Gomoa Mpota in the Central Region, were on display.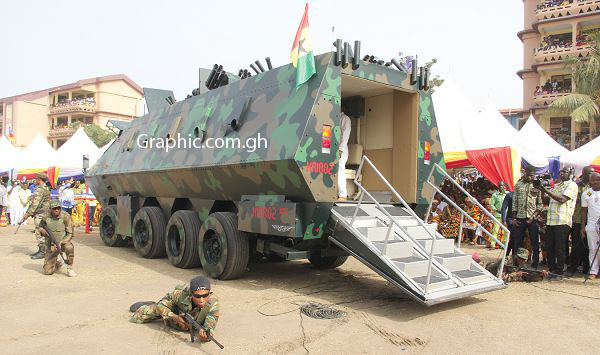 At the event,the advanced amoured vehicle with a laser rangefinder manufactured by Apostle Dr Ing. Kwadwo Safo, Founder and Leader, Kristo Asafo Mission of Ghana.
 Apostle Dr Ing. Kwadwo Safo
Photo Credit: Graphic