The Ghana Police Service has warned that henceforth all those who flout the ban on public gathering directive and troop to the beaches will be arrested.
This comes after a video surfaced showing hundreds of people at a beach in Chorkor a suburb at Accra.
This was condemned by many and they asked the authorities to apply strict measures in other to ensure people stick to the public gathering directive to help prevent the spread of COVID-19.
READ ALSO:Â Volta, Western Regions confirm first COVID-19 cases, total now 566
In a statement signed by Superintendent of Police Mrs Sheilla Kessie Abayie-Buckman, Director of Public Affairs it read: "In accordance with the Imposition of Restrictions Act, 2020 (Act 1012) and consequential orders, the public is to note that gathering at any beach in Ghana amounts to an offence". 
"With the exception of security service personnel or essential service providers whose presence at the beaches may be necessary to provide security for the public safety, all other persons found at any beach from now onwards and within the period of imposition on public gathering or movement will be arrested".
"All other persons found at any beach from now onward and within the period of imposition of restrictions on public gathering or movement will be arrested," it cautioned.
Below is the statement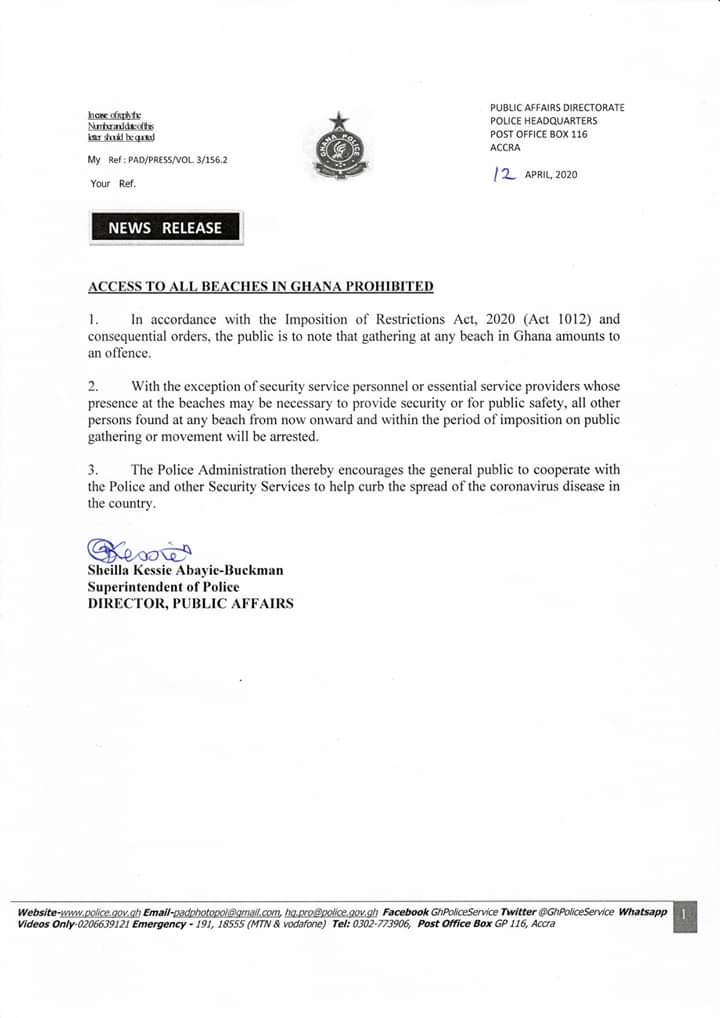 The Ghana Health Service on April 12, 2020, updated the public on Ghana's COVID-19 cases count.
As of 11 April 2020, 23:00 Hrs, a total of 37,954 persons have been tested with 566 being positive for COVID-19. The breakdown of the 566 positive cases are as follows: four (4) have been treated, discharged and tested negative, 552 cases have been categorised as mild disease on treatment, two (2) moderate to severe cases, none currently on ventilators and eight (8) have died.
Regions that have reported cases are Greater Accra, Ashanti, Central, Eastern, Western, Volta, Northern, North East, Upper East, and Upper West.