President Akufo-Addo in his Eid al-Adha message has urged Muslims in Ghana to pray for peace ahead of the 2020 elections.
There has been some violence recorded in the ongoing voters' registration and that must have informed the President to ask the Muslim community to intervene as they celebrate Eid al-Adha today.
READ ALSO: Eid al-Adha teaches us selflessness and sacrifice which all must emulate - Dr Bawumia
"Eid-ul-Adha is a celebration of the true essence of Islam, peace, and submission to the will of Allah. I pray we use the occasion of Eid-ul-Adha to reflect on the spirit of sacrifice and loyalty that inspired Prophet Ibrahim to accept Allah's command to sacrifice his son Ishmael. Our nation requires that we sacrifice our abilities and talents to the nation-building of a Ghana Beyond Aid."
"I urge all Muslims to take advantage of this Holy Month of Zhul-hajj to pray for the peace of our nation, as we count down to election 2020."
Akufo-Addo's message to Muslims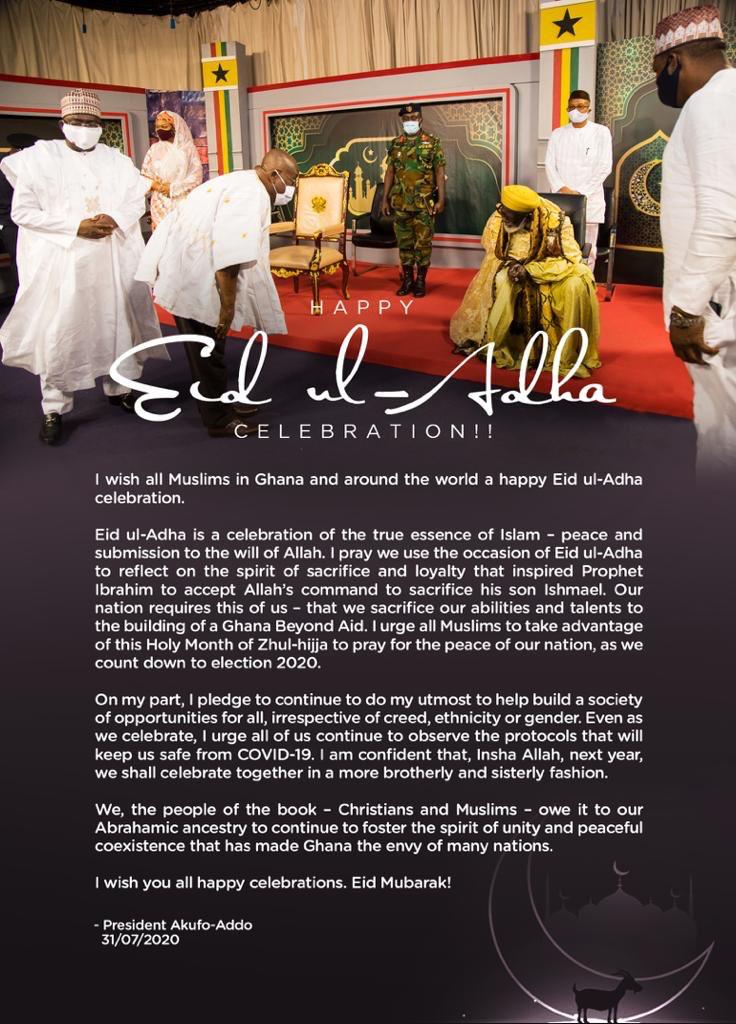 What is Eid al-Adha
Eid al-Adha also called the "Festival of the Sacrifice", is the second of two Islamic holidays celebrated worldwide each year (the other being Eid al-Fitr), and considered the holier of the two.
It honours the willingness of Ibrahim (Abraham) to sacrifice his son as an act of obedience to God's command. But, before Abraham could sacrifice his son, God provided a lamb to sacrifice instead. In commemoration of this intervention, an animal is sacrificed and divided into three parts. One share is given to the poor and needy, another is kept for home, and the third is given to relatives.
In the Islamic lunar calendar, Eid al-Adha falls on the 10th day of Dhu al-Hijjah, and lasts for three days. In the international (Gregorian) calendar, the dates vary from year to year shifting approximately 11 days earlier each year.