Prince Harry is a busy man — so busy that, like many people, he struggles to make time for a trip to the cobbler's, as evidenced by the distressed shoes he wore to Princess Eugenie's weeding on Friday.
The Duke of Sussex, 33, wore visibly distressed black brogues to the star-studded occasion that saw his cousin Eugenie tie the knot with Jack Brooksbank, 30, in front of 850 royals, aristocrats, VIPs and friends.
Harry, who was accompanied by his wife Meghan Markle, 37, was photographed wearing the same, equally distressed shoes to a different wedding in August this year.
On Friday, Harry looked overall dapper in a black jacket with tails, a blue waistcoat paired with a coordinated tie, and striped pants.
His damaged shoes contrasted all the more with the rest of his outfit, breaking the polished vibe that set the tone of the rest of the duke's look.
His left shoe, in particular, featured a large hole in its sole, likely from the result of overuse — something that could presumably be fixed easily by getting the brogues re-soled.
The heel of Harry's shoe appeared to be in a slightly better state than the rest of the brogue and featured a metallic heel tap to help preserve that part of the shoe.
Harry's brogues previously made headlines in August when he and Meghan attended the wedding of the duke's childhood friend Charlie van Straubenzee.
The Duke of Sussex, who was the best man and delivered a speech during the bash in Frensham, Surrey, wore the same black dress shoes that he wore on Friday.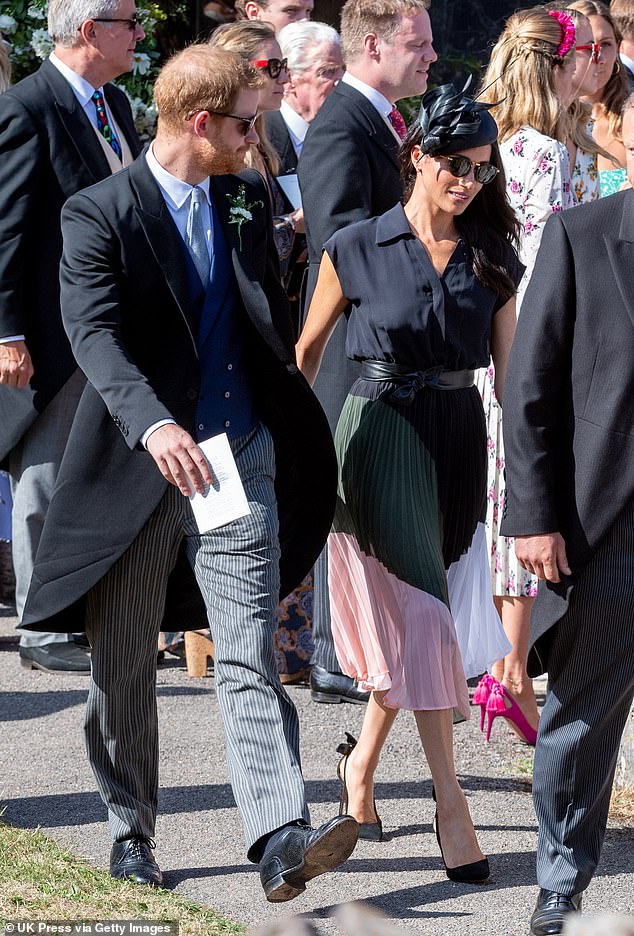 At the time, the dress shoes already featured the same hole on the left sole, and appeared overall distressed.
The wardrobe incident was chronicled in several news stories, with some deeming it a 'relatable' moment on the duke's part.
Harry's wardrobe was not the only one to draw a few raised eyebrows at the wedding.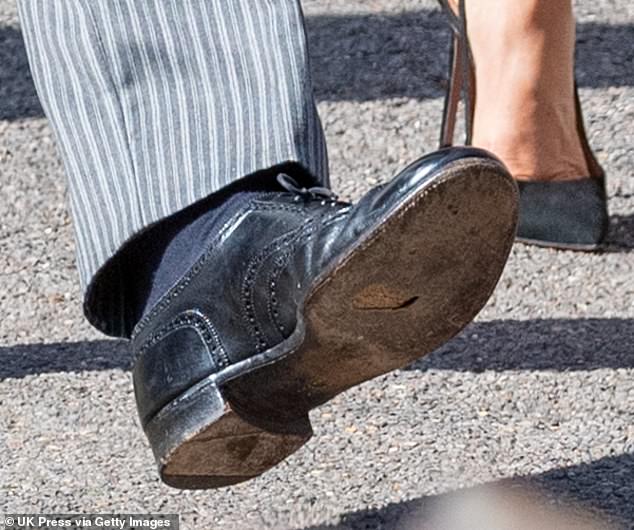 While his wife Meghan looked impeccable in a very chic and pristine Givenchy coat during Eugenie's nuptials, her ensemble led some to speculate that she is pregnant - thanks to the loose-fitting style.
She and Harry arrived at St George's Chapel for the event together, which was also attended by Harry's brother William and his wife Kate Middleton, both 36.
Meghan stunned in her navy blue ensemble, which was created by the same fashion house that designed her wedding gown back in May, when she and Harry wed at the same Windsor Castle venue.
However, some royal watchers suggested that the duchess had opted for what appeared to be a very wide-fitting coat in order to conceal the beginnings of a baby bump.
One Twitter user said: 'Judging by the fact that she's wearing a heavy coat indoors; Meghan Markle is either pregnant or the type to get chilly easily.'
Another wrote: 'I'm telling you now Meghan Markle is pregnant.'
'Something about Meghan's outfit choice makes me think she's pregnant and hiding a baby bump. It's so conservative,' another said.
A fourth commenter wrote: 'I guess Meghan's pregnant. She didn't take off her wide coat at any point do the wedding. You couldn't even see her dress.
'Would be so nice for Harry and Meghan to have a baby.'