Just as waakye has become a common breakfast for many Ghanaians, palm nut soup with rice balls (omotuo) has become the main dish for Sunday afternoons.
Palm-nut soup or palm butter soup is almost everyone's favourite soup in West Africa.
The soup is very famous in Ghana, Liberia, Sierra Leone, Guinea, and Nigeria.
There are many different ways to make this soup, some a bit tedious.
Today I'm going to show you an easy way to prepare and enjoy your favourite palm nut soup made with smoked fish (yummy!).
Ingredients:
* 1 can of palm nut cream (You can get it in your African stores)
* 2 smoked fishes (or use any meat)
* 3 fresh tomatoes, mashed
* 2 onions, grated, mashed
* 3 cloves garlic, minced
* 1 tablespoon black pepper
* Chili powder
* Salt to taste
* Bouillon cube (Maggi)
* Fresh chilies
* 1 cup of chopped green onion (optional)
* 1-liter water (depending on how thick or light you want your soup to be)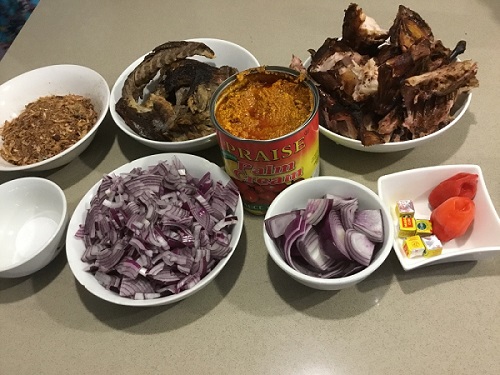 READ ALSO: Recipes: How to prepare ripe plantain pancakes with ground rice, corn dough, or flour
Procedure:
Step 1: Wash the smoked fish with extremely hot water, let it soak for a minute or so, and then cut it into medium pieces.
Step 2:  Heat the pot, and add the smoked fish, season with black pepper.
Add garlic, tomatoes, and onions and pour the palm nuts cream into the pot.
Add one liter of water.
Step 3: Add bouillon cube, chili powder (optional), and salt to your taste.
Add the fresh chilies and cover and let it simmer for 30 minutes or more.
It is ready when the red oil appears on the surface of the soup.
You can serve the palm nut soup with 'Omotuo', Rice, or Fufu.
Enjoy!