The current President of Nigeria, Muhammadu Buhari was on born December 17, 1942, at Daura in Nigeria. Buhari served as Nigeria's head of state in 1984–85 and was democratically elected as president in 2015.
Buhari was re-elected in February 2019 as the President of Nigeria on the ticket of the All Progressives Congress(APC), results of the elections released showed that he won by 56% of the vote.
5 THINGS YOU DID NOT KNOW ABOUT BUHARI
-Muhammadu Buhari was born to a Fulani family, his father was a Fulani Chief, Hardo Adamu, and mother Zulaihat. He is the twenty-third child of his father. Buhari was raised by his mother after his father died when he was about four years old.
-Buhari reared cattle in the early days of his childhood because his father had cattle. He left home at the age of 10 to boarding school. He was in the boarding school for nine(9) years, he had his primary and secondary level of education at the school. After his secondary education, he went straight into the Army.
-From 1 August 1975 to 3 February 1976, General Murtala Mohammed, appointed Buhari as Governor of the North-Eastern State, to oversee social, economic and political improvements in the state. Buhari also briefly served as Governor of Borno state from 3 February 1976 to 15 March 1976.
-Muhammadu Buhari is a retired major general in the Nigerian Army and previously served as the nation's head of state from 31 December 1983 to 27 August 1985, after taking power in a military coup d'état.
-President Buhari has five children with his current wife Aisha Buhari (Halilu). And he has five children from his first wife Hajia Safinatu (unfortunately, she died in 2006). The children from Hajia Safinatu are Zulaiha, Fatima, Musa, Hadiza, and Safina. President Buhari children from Aisha Halilu are Halima, Zahra, Yusuf, Aisha, and Amina.Buhari is also blessed with grandchildren.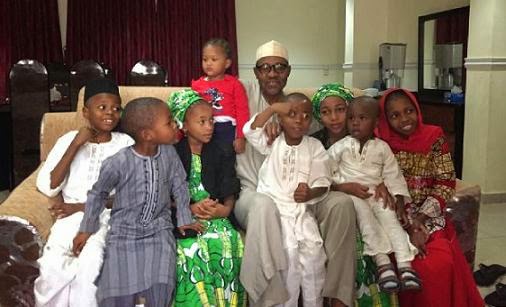 Buhari and his grandchildren
READ ALSO: