The New Patriotic Party in Akuapem North Constituency Saturday, February 11, 2023, inaugurated its mandatory statutory committees as per article 7(12) of their party constitution in Akropong.
The Eastern Regional Secretary Mr Tony Osei Adjei after inaugurating the Committees urged the constituency to work hard and break the 8-year political cycle. "Though the 2024 elections will be a difficult one, I trust with unity of purpose, we shall break the 8" he added.
On his part, the Regional Organiser of the party, Jerry Osei Poku entreated the wings of the party to energise the base and work hard to secure a massive victory for the party in 2024.
Hon Dennis Miracles a Presidential staffer at the Presidency and a member of the Council of Patrons elaborated on the good works
of the government and urged patriots to sell our good story. "The Nana Addo Presidency has chalked lots of success, we should be proud and talk about it" he added.
The Constituency Chairman Mr Omane Mensa-Bonsu thanked the Committee members and assured them that his team will support them in the discharge of their duties. He further promised to provide the needed leadership to ensure that the party maximise its votes in the parliamentary and presidential elections.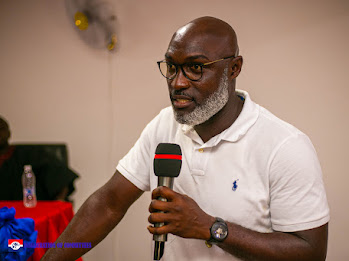 Lawyer McBen Asamoah
The Committees inaugurated were the Council of Elders, Council of Patrons, Disciplinary and Finance. The Committees members included Ambassador Afare Donkor, Ambassador Mercy Bampoe, Mr Joseph Addo-Yobo, Ing Emmanuel Antwi-Darkwa, Lawyer McBen Asamoah, Mrs Philomina Serwa Akoto Sam, Mr Ofei Agyekum, Dr Edward Kwapong, Hon Dennis Miracles Aboagye, Dr Stella Boateng, Mr Ofei Kwapong, Mr Daniel Antwi, Mr Alexander Akrofi, Mrs Appleton, Mr John Peter Nyarko and Mr Kenneth Offei.