Defeated National Youth Organiser aspirant of the National Democratic Congress (NDC) Yaw Brogya Genfi has withdrawn his interim injunction against George Opare Addo popularly called Pablo.
This follows the intervention of former President John Mahama on Thursday, December 22, 2022.
In a post, Mahama announced that the defeated aspirant has agreed to withdraw his case against Pablo.
READ ALSO: George Opare Addo sworn in as NDC Youth Organiser despite injunction
He added that all NDC members must work together, "fully committed to victory in 2024, and the discussion with Comrade Genfi was most encouraging."
"I have had a meeting with Comrade Brogya Genfi following his decision to seek redress in court, and the outcome of our successful discussion is the decision to withdraw the case from court.

"We must work together, fully committed to Victory 2024, and the discussion with comrade Genfi was most encouraging.

"We must focus on building a united front at all levels of the party, and this is a great beginning."
Meanwhile, newly elected NDC Youth Organiser George Opare Addo has welcomed the news of his opponent withdrawing the court case.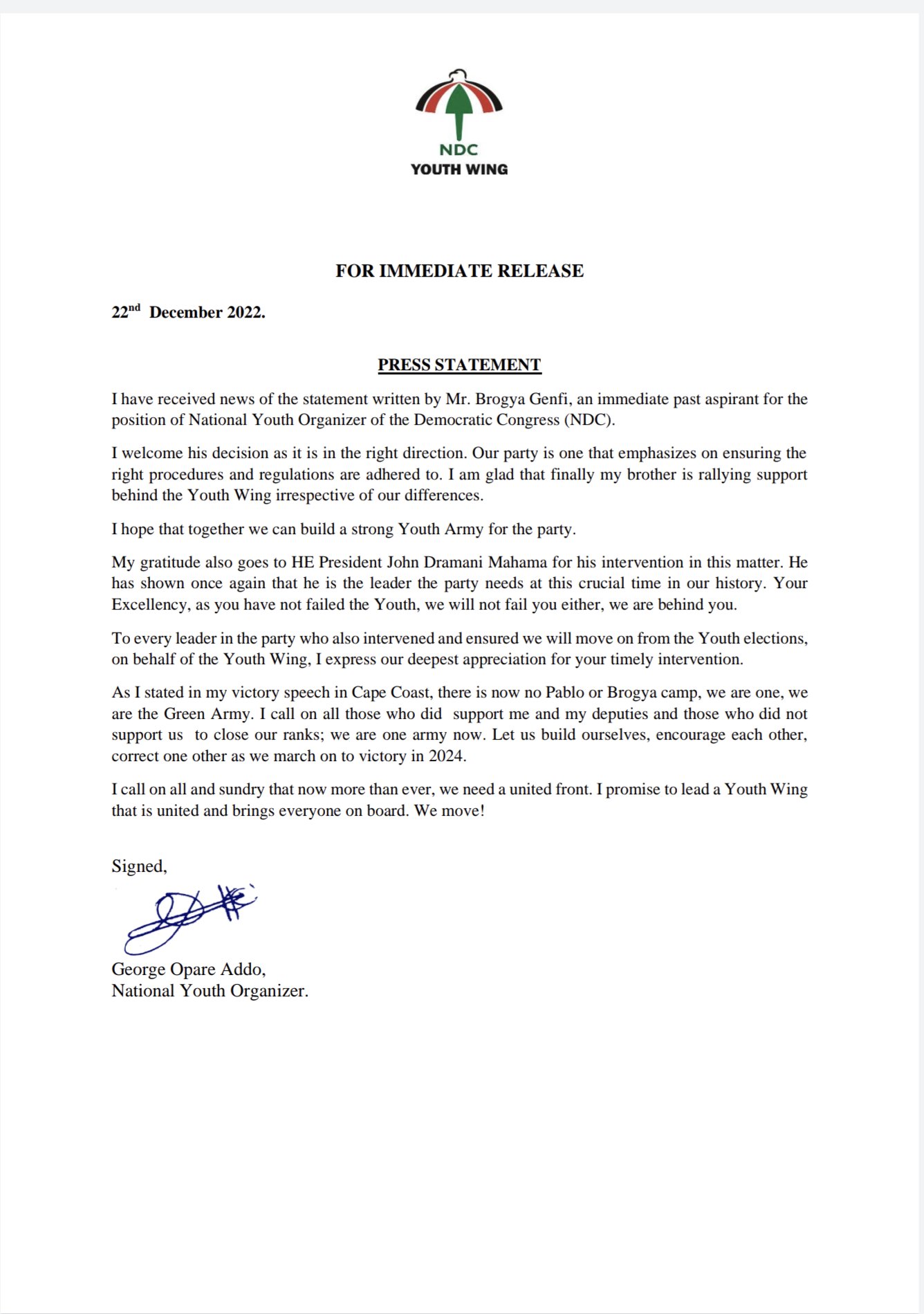 Pablo was re-elected National Youth Organiser of the NDC days ago. However, Genfi applied for an interim injunction, which was granted by the High Court in Amasaman.
The plaintiffs was seeking the annulment of the just-ended National Youth Organizer election on the basis that 22 TEIN President delegates who by the expressed orders of the High Court were supposed to vote in the elections, were excluded and/or prevented from participating in the elections and that 17 persons who were not supposed to participate in the elections were rather allowed to vote.
The plaintiffs are of the view that given the fact that the margin between the two candidates was only 25 votes, the said illegalities and infractions constituting 39 votes, significantly impacted the outcome of the elections.
Despite the injunction, NDC defied the court order that sought to stop the party from swearing in its Youth Organiser-elect, George Opare Addo.
The matter now comes to an end since the plaintiff has decided to withdrawn the case.