The leadership of the New Patriotic Party (NPP) has urged all stakeholders to remain calm, as the party seeks an amicable resolution to the impasse of whether or not Ken Ofori-Atta should be removed as Finance Minister.
In a statement issued on Tuesday and signed by the National Chairman of the NPP, Mr Stephen Ayesu Ntim said it is engaging with engaging government as well as the parliamentary group to have the issues resolved.
READ ALSO: "This is not a betrayal"- Appiah Kubi defends calls to sack Ken Ofori Atta
"The leadership of the party is currently engaging government as well as the parliamentary group and urges all stakeholders to remain calm as it seeks an amicable resolution to the impasse", the NPP stressed in a statement.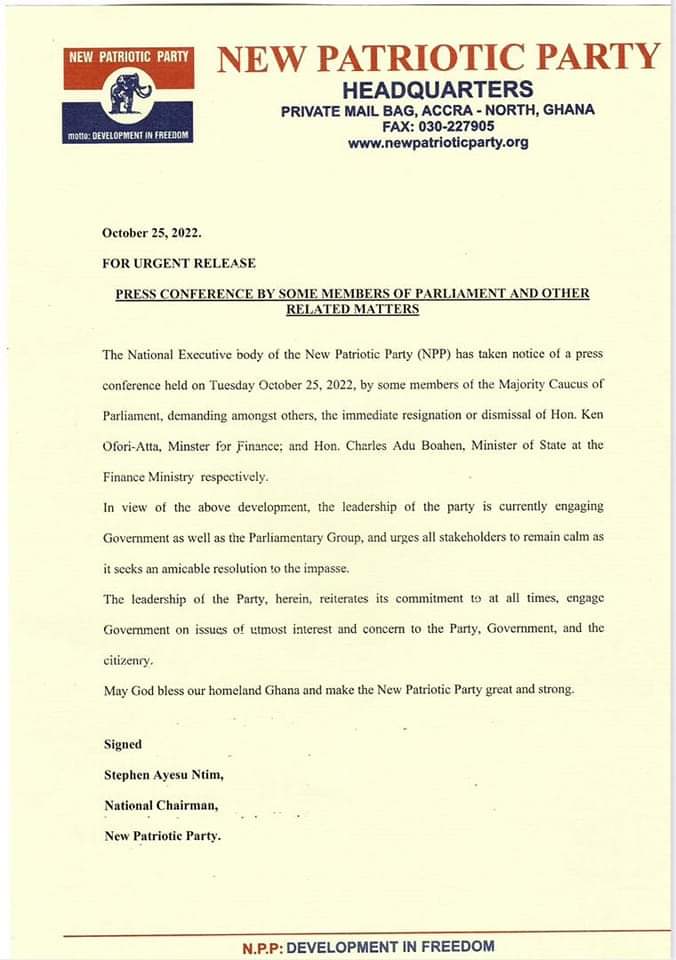 This comes after some members of parliament in the NPP caucus demanded the sacking of Finance Minister Ken Ofori-Atta from office now to help restore confidence in the economy.
The group said it will not do business with government if the president fails to heed to their call.
Spokesperson, Andy Appiah-Kubi, NPP Member of Parliament for Asante Akim North constituency told a press conference at Parliament House on Tuesday that members of the majority will not participate in any government business including the budget hearing until their demands were met.
"The recent development within the economy is of major concern to our caucus and our constituents. We have made our grave concern to our president through the parliamentary leadership and the leadership of the party without any positive response."
"We are by this medium communicating our strong desire that the president changes the Minister of Finance and the Minister of State at the Finance Ministry without further delay in order to restore hope into the financial sector and reserve the downward trend in the growth of the economy."
The development comes amid a worsening economic downturn in the country as the Ministry looks to the International Monetary Fund (IMF) for a crucial bailout.