The Ablekuma West Municipal Chief Executive George Cyril Bray says he will render an apology to political aspirants in the area if truly his men removed their flags.
Speaking on Asempa FM's Ekosiisen after yesterday's backlash that the taskforce from the Municipal Assembly deliberately removed the flags of NDC aspirant, George Cyril Bray explained that the directive was to get rid of unauthorised signages and not party flags.
According to him, he noticed yesterday that most signages in the area especially those mounted on the light poles are without permission from the Municipal Assembly.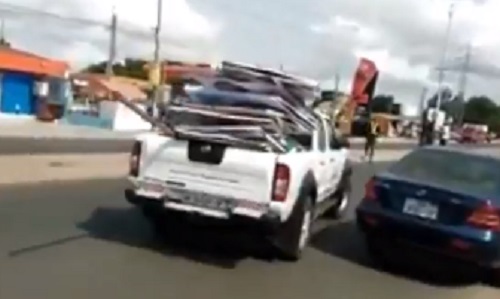 After enquiring from the officers in charge of issuing the permit, he found out that those boards were not authorised so he ordered them to be brought down by the taskforce.
George Cyril Bray indicated that due to lack of funds for various activities in the area they are most strict on the permit for these signages but party flags were not part of the exercise.
He believes the action is an excess on the part of some officials of the assembly.
George Cyril Bray further stated that we will apologise to any party whose flags were brought down and will also order for the flags to be sent back.
Speaking on how activities are conducted during election years, George Cyril Bray said they always allow political parties to hang their flyers and paste their posters during these seasons.
He added that there is no restriction on political parties but they only advise them to do so in a measured manner.
Still commenting on the issues of posters and flyers in the capital, he said somewhere last year Chief Executives met and agreed that they won't allow for individuals and groups to paste their posters on the major streets in the capital, and for the Ablekuma West, the taskforce goes around every week to check for these things on the highway.