Kwame Nkrumah was a Ghanaian politician and revolutionary. He was the first Prime Minister and President of Ghana, having led the Gold Coast to independence from Britain in 1957.
An influential advocate of Pan-Africanism, Nkrumah was a founding member of the Organisation of African Unity and winner of the Lenin Peace Prize in 1962.
After twelve years abroad pursuing higher education, developing his political philosophy and organising with other diasporic pan-Africanists, Nkrumah returned to the Gold Coast to begin his political career as an advocate of national independence.
He formed the Convention People's Party, which achieved rapid success through its unprecedented appeal to the common voter. He became Prime Minister in 1952 and retained this position when Ghana declared independence from Britain in 1957. In 1960, Ghanaians approved a new constitution and elected Nkrumah President.
READ ALSO: Monday, Sep. 23 declared Public Holiday by Prez. Akufo-Addo
His administration was both nationalist and socialist. Thus, it funded national industrial and energy projects, developed a strong national education system and promoted a national and pan-African culture. Under Nkrumah, Ghana played a leading role in African international relations during the decolonisation period.
Nkrumah was deposed in 1966 by the National Liberation Council which under the supervision of international financial institutions privatised many of the country's state corporations. Nkrumah lived the rest of his life in Guinea, of which he was named honorary co-president.
Early life and education
Kwame Nkrumah was born in about 1909 in Nkroful, Gold Coast to a poor and illiterate family. Nkroful was a small village in the Nzema area, in the far southwest of the Gold Coast, close to the frontier with the French colony of the Ivory Coast.
Kwame Nkrumah was raised by his mother and his extended family, who lived together in traditional fashion, with more distant relatives often visiting. He lived a carefree childhood, spent in the village, in the bush, and on the nearby sea. Nkrumah's mother sent him to the elementary school run by a Catholic mission at Half Assini, where he proved an adept student.
He progressed through the ten-year elementary programme in eight years. By about 1925 he was a student-teacher in the school and had been baptised into the Catholic faith. While at the school, he was noticed by the Reverend Alec Garden Fraser, principal of the Government Training College (soon to become Achimota School) in the Gold Coast's capital, Accra. Fraser arranged for Nkrumah to train as a teacher at his school.
Here, Columbia-educated deputy headmaster Kwegyir Aggrey exposed him to the ideas of Marcus Garvey and W. E. B. Du Bois. Aggrey, Fraser, and others at Achimota taught that there should be close co-operation between the races in governing the Gold Coast, but Nkrumah, echoing Garvey, soon came to believe that only when the black race governed itself could there be harmony between the races.
The young teacher decided to further his education. Azikiwe had attended Lincoln College, a historically black college in Chester County, Pennsylvania, west of Philadelphia, and he advised  Nkrumah to enroll there. Nkrumah, who had failed the entrance examination for London University, gained funds for the trip and his education from relatives. He traveled by way of Britain, where he learned, to his outrage, of Italy's invasion of Ethiopia, one of the few independent African nations. He arrived in the United States, in October 1935.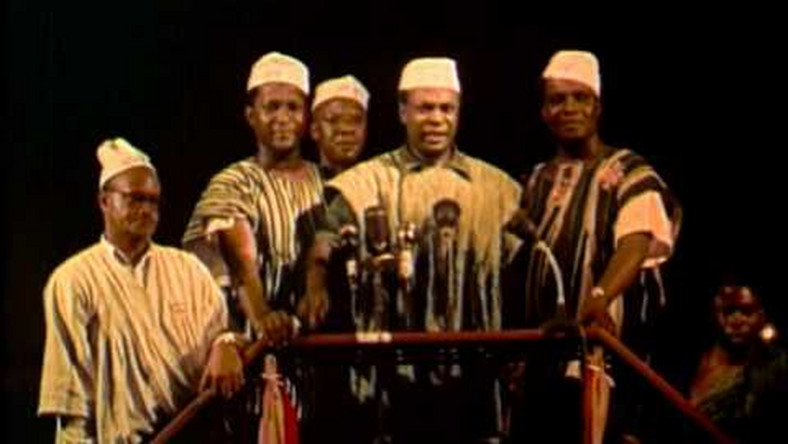 Kwame Nkrumah declaring Ghana independent
History of Kwame Nkrumah Memorial Day
In 1874, Britain took control over parts of Ghana, naming them the British Gold Coast.
Britain was weakened by the efforts of World War II and following a rising desire for independence, Ghana was the first sub-Saharan African country to achieve independence, on March 6th 1957.
Dr. Nkrumah was the driving force behind the independence of Ghana from British rule and founded the Convention People's Party (CPP).
In 1960, Prime Minister Osagyefo Dr. Kwame was sworn into office as the first President of the country and the republic was proclaimed on July 1st 1960.
In February 1966, while Nkrumah on a state visit to Vietnam and China, his government was overthrown in a military coup. Nkrumah never returned to Ghana and died in April 1972.
In September 2009, President John Atta Mills declared September 21st (the centenary of Kwame Nkrumah's birth in 1909) to be Founder's Day, a statutory holiday in Ghana.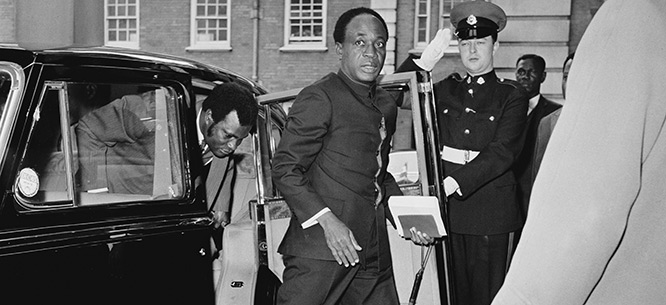 Nkrumah designed the national flag of Ghana. Its design was inspired by Ethiopia's green-yellow-red Lion of Judah flag with the lion replaced by a black star. Red symbolizes bloodshed and struggle; green stands for beauty and agriculture; yellow represents mineral wealth; and the Black Star represents African freedom.
How is Kwame Nkrumah Memorial Day Celebrated?
The day is marked with lectures and events to commemorate the achievements and legacy of Dr. Nkrumah.