Greater Accra Regional Chairman of the NDC, Ade Coker has been re-elected after a closely contested election held on Saturday, September 1, 2018.
At the end of the election, Ade Coker beat his closest contender by 26 votes, having polled 319 out of the 1009 votes cast with one rejected ballot.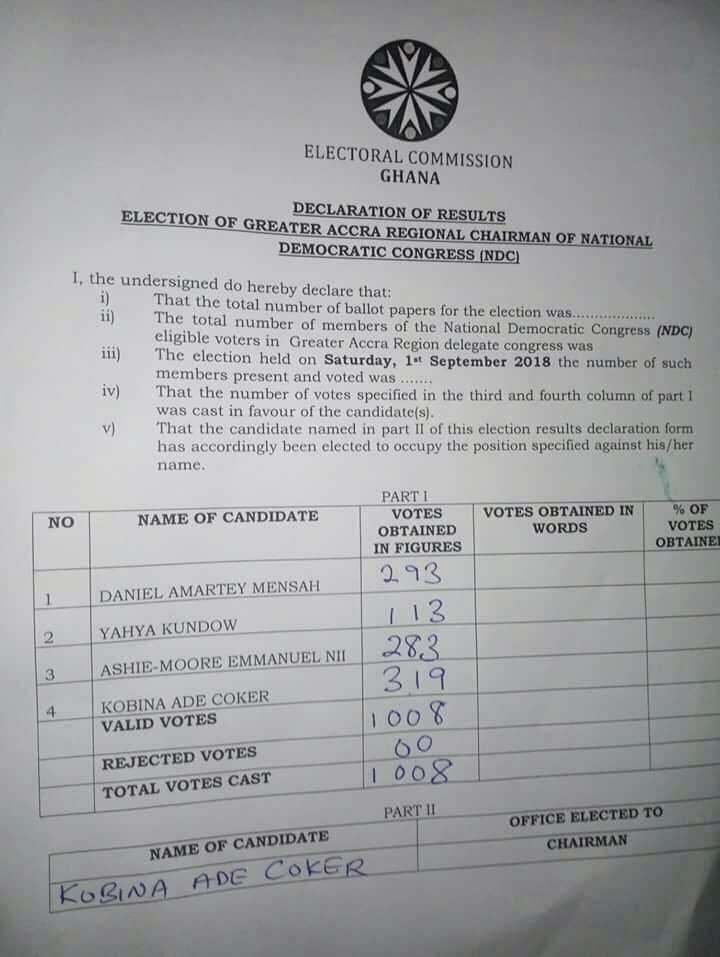 Ade Coker's competitors, Daniel Amartey, Yahya Kundow and Ashlie-Moore polled 293, 113 and 283 respectively.
In the same, former Member of Parliament for Ablekuma Central, Theophilus Tetteh Chaie beat his closest competitor Victor Quarshie by 256 votes to emerge as the Greater Accra Regional Secretary.
Former Member of Parliament for Ablekuma Central, Theophilus Tetteh Chaie
Below are the results of the Greater Accra regional elections

Chairman
Daniel Amartey - 293
Yahya Kundow - 113
Ashlie-Moore -283
Kwabena Ade Cooker - 319
Rejected-1

Vice Chairman
Rex Daniel - 147
Mohammed Bashiru -19
William Vinyo - 399
Ibrahim Jajah - 345
Abdul Basit - 8
Gifty Emefa -39
Billey Tahiru - 25
George Tetteh -14

Deputy Organizer
Gambo Abudullai - 373
Habel Akwasi Adjei - 26
Dickson Mawuko Lekey - 78
Joshua Bortey Alabi - 255
Isaac Mensah - 68
Gabriel Lucky Ocansey - 58
Jonas Jesse Narh - 86
Richard Eyram Dogbe - 61
Rejected - 1

Deputy Secretary
Rakim Derek - 39
Emmanuel Salam - 125
Baba Abu Abdulai - 205
Mac Daniel - 45
Augustine Nii Amoah - 263
Patricia Naa Addy - 333
Rejected - 1

Secretary
Victor Quarshie - 305
Theophillous Tetteh - 561
Nii Ayee - 82
Lois Korkor Tetteh – 56

Zongo Caucus Coordinator
Mohammed Ashkar - 446
Ismaila Horoya - 556
Rejected-4

Deputy Communicator
Nana Adobea Koranteng - 93
Isaac Nii Otoo Lartey - 68
Dickson Dodoo - 86
Thomas Addy Godfred - 49
Maurice D.K Mawugah - 31
George Acheampong - 38
Frank Nii Dua - 86
Simon Kwaku Tetteh - 344
K. A Aboah - 76
Gideon Tettey Tetteh - 131

Rejected - 2

Treasurer

Solomon Barnor - 117
Regina Samiratu - 430
Seidu Haruna - 242
Rabbon Kwashie Dodoo - 216
Rejected-1

Deputy Treasurer

Nubil Kakra Vanlare - 273
Mohammed Norgan - 345
Abagna Raphael 124
Mercy Akomah - 219
Ahortu John Nurudeen 41
Ghana News: Latest news in Ghana