President Akufo-Addo says he will be signing Right to information (RTI) bill into law today Tuesday, May 21, 2019. 

The president made the announcement via Twitter.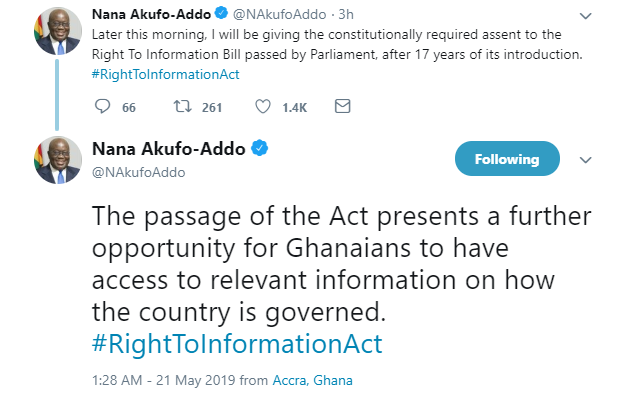 Right to Information bill was finally passed by Parliament after 17 years of relentless campaigns by local rights groups.
If the bill is passed into law by President Akufo-Addo, it will take effect from January 2020.
In March this year, Parliament passed the Right to Information (RTI) Bill into law. The Right to Information Bill was passed following the completion of its consideration stage after several policy changes, amendments and months of rigorous debates on the Floor of the House.
The RTI Bill had been in Parliament for close to two decades despite calls from the media and civil society groups for its passage.
The back and forth
The RTI Bill was first drafted in 1999 under former President, Jerry John Rawlings.
Various advocacy groups emerged to press for the immediate passing of the bill into law in 2002 and reviewed in 2003, 2005 and 2007.
The National Democratic Congress (NDC) in its 2008 and 2012 election manifestos promised to ensure the Bill was passed. In 2010, it was presented to Parliament for consideration.
In 2011, the government signed unto the Open Government Partnership (OGP) Initiative with a c Right to information Bill - RTI finally passed by parliament
READ ALSO: 
For more Ghana Headlines visit primenewsghana.com