The December 7 general elections have come and gone and left in its wake a monumental defeat for the incumbent president, John Dramani Mahama and his National Democratic Congress (NDC).
In an election widely touted as the most smoothly held Ghanaian election since 1992, the NDC was walloped in both the presidential and parliamentary polls by their arch-rivals, the Nana Addo Dankwa Akufo-Addo led New Patriotic Party (NPP).
In an unprecedented fashion, a sitting president was not merely denied a straight second term but was defeated by a margin of nearly 10 percentage points which translates into over one million votes in real terms and his party lost almost fifty parliamentary seats to concede their legislative advantage to the incoming president's party.
With this heavy defeat, the NDC, which prior to the elections had claimed to be the most united party in the country, is looking divided on what may have caused them to receive such a thumping.
While many leading figures and national executives of the party have by and large cited voter apathy among their supporters in their strongholds especially in the Volta Region for their defeat, others are of the opinion that the party's campaign team failed at their job.
Former Municipal Chief Executive (MCE) of Ejisu Juaben in the Ashanti Region, Afrifa Yamoa Ponko blames the party's National Organiser and coordinator for the 2016 campaign, Kofi Adams to the extent of calling for him [Adams] to be sacrificed for the defeat.  
But as the NDC remains uncertain about the reasons for the defeat, one thing remains very certain, the party was not expecting a result and has been shocked to the bone by it.
The party which was very much counting on a second term for President Mahama and seem not to have planned for anything beyond that is now faced with the reality of going into opposition to prepare for the 2020 elections.
As this reality sets in, one person who will be an interested party is Minister of Trade and Industry, Dr Ekwow Spio-Garbrah who contested and lost miserably to President Mahama's predecessor, the late Professor John Evans Atta Mills in the NDC's presidential primaries in 2006.
Yes, Dr. Spio-Garbrah was overwhelmingly defeated by 81 percent to 8.7 in the NDC primary before Prof. Mills went ahead to win the presidency in 2008 percent and was widely derided by many in the NDC after he reportedly described the subsequent government as full of Team B players.
But having apologised and explained that his comment was taken out of context, Dr Spio-Garbrah, a former Minister of Communication, Minister of Education, and Minister responsible for Mines and Energy, one-time Ghana Ambassador to the United States and Mexico in the J.J. Rawlings administration, a former member of the UNESCO executive board, board of directors of South African Telecom, AngloGold Ashanti and Vodacom and a former CEO of the London-based Commonwealth Telecommunications Union (CTU), won back support of NDC supporters had widely been envisaged to be the next NDC presidential candidate after Mr Mahama.
With such a profile, he could be argued to have more experience in public service than President Mahama himself and would definitely be a very good candidate for the NDC.
The problem, however, is, he was expected to succeed President Mahama rather than compete with him. Indeed, Dr Spio-Garbrah in 2015 had to shoot down reports that he was going to contest President Mahama in the NDC presidential primary for the 2016 elections.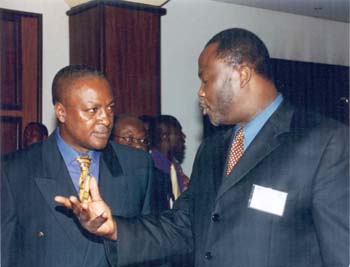 This situation puts the NDC in some kind of dilemma considering the fact they would have to make a choice between continuity and a fresh start as to whom to select as their presidential candidate in the next election.
With Mr Mahama in 2020, the NDC would have an already known candidate who would have had the experience of serving as a president and have achievements to point to.
This will look like the obvious choice to make but President Mahama will be coming with a little baggage. He cannot contest in 2024 if he wins in 2020 and the party would have to market a new candidate altogether.
Considering the fact that NDC communicators would go to any length to extol President Mahama for 'graciously conceding even in the face of some irregularities they identified with voting', the party is positioning him to be the most popular person in the NDC and he would likely be until the party's next presidential primary in 2018, making it difficult for other presidential hopefuls in the party to overtake him. 
Mr Mahama has indicated that he would take a long break from local politics and later focus on global matters after handing over on January 7 and may not even seek his second term but if he decides to contest, he may well be ending the presidential ambition of a certain Ekwow Spio-Garbrah, the man he succeeded as the Minster for Communications in 1998.