The Confederation of African Football (CAF) broke its contract with beIN Sports because it is owed nearly $100m (£80m) by the Qatari media group, a source has told the BBC.
On 1 September, Caf unilaterally ended a 12-year contract, worth $415 million (£333m) and which ran from 2017-2028, with immediate effect.
While beIN has stated it will "take all necessary legal steps to challenge and overturn" the cancellation, Caf has accused the broadcaster of breaching its contract and instructed its lawyers to recover the outstanding payments.
"BeIN owes Caf $98 million and they have refused to pay for nearly two years," a source close to the matter told BBC Sport Africa.
"The last time beIN paid Caf was in February 2022 and that was only after Caf threatened to remove beIN's rights to broadcast the final stages of the Africa Cup of Nations (Afcon)."
Shortly after the Nations Cup ended that month, Caf and beIN met to resume talks regarding the latter's concerns about how the rights it purchased had been affected by the coronavirus pandemic.
BeIN has been keen to reduce the total sum of its contract given the Covid-enforced cancellation of two events - the 2020 Women's Africa Cup of Nations and the 2021 Under-17 Nations Cup - it had previously agreed to pay for.
While the Qatari media group is also insisting upon a further reduction to the original deal, given what it calls "Covid's wider disruption" to the African football calendar, Caf believes the various tournaments postponed by the pandemic were beyond their control.
Given the cancellations, Caf did reduce the total sum - by no more than $2m - but this failed to prompt beIN to fulfil its payments, the source explained before adding that the "door is open" for talks.
One area African football's governing body may highlight in the dispute is Afcon's expansion since the deal came into force six years ago.
With the competition growing from 16 teams to 24 from 2019 onwards, an extra 20 games have been added to the finals - meaning an additional 40 matches over the last two tournaments, yet Caf has not asked its broadcast partners for any further payments.
Despite the ongoing disagreement, and Caf's 1 September letter cancelling the deal, beIN was able to broadcast last week's final qualifiers for January's Afcon after being provided with the television feed by Caf in a move that appeared to show the door is indeed "open" for future negotiations.
Caf's communications director Lux September refused to be drawn on the above when asked for comment.
Outstanding differences highlight gap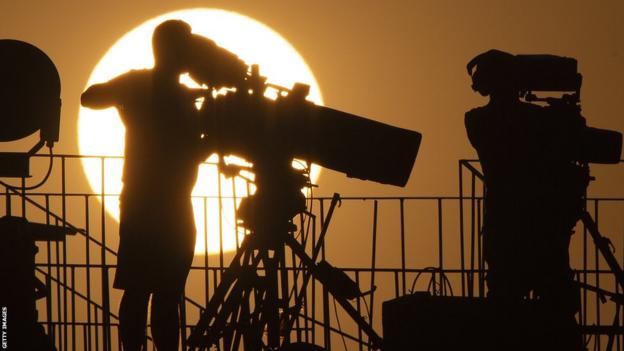 In response, a beIN spokesperson agreed that the last payment to Caf was nearly 18 months ago, albeit with a different recollection about its nature.
"We paid a goodwill payment of $32.5m (£26m) in February 2022 during Afcon," the spokesperson told the BBC.
"Given the nature of our ongoing dispute regarding contractual issues, we could have paid nothing at all. But we did in goodwill - and in the context of investing hundreds of millions of dollars in Caf over more than a decade, and being Caf's broadcast partner in nearly 40 countries worldwide."
Admitting that it owes "$88.3m (£71m) plus interest", beIN - which says it sees "no extra value" in the expanded 24-team Cup of Nations - has simply refused to pay as it seeks reductions which Caf has not been agreeing to.
BeIN also believes the new Fifa-backed African Football League (AFL), which gets underway for the first time next month, has further reduced the worth of its rights given the African Champions League has seemingly been usurped by the arrival of the elite eight-team event.
"In introducing a new top-tier tournament, you destroy the value of the previous rights while asking for more money for new rights," said the beIN spokesperson.
September declined to comment on any of the claims above, saying that Caf president Patrice Motsepe will do so at an appropriate time.
"At the moment, I cannot say much on this," September said.
"But there is a great deal of comfort in knowing that African football leaders speak with one voice. At the appropriate time, our president Dr Patrice Motsepe will address this matter with the media."
September was speaking after Caf's executive committee held a virtual meeting on 7 September.
A Caf press release later stated that decisions "taken by the Caf leadership were…unanimously ratified", suggesting that the executive committee, originally kept out of the talks to terminate the beIN Sports contract, agreed with the approach.
Financial concerns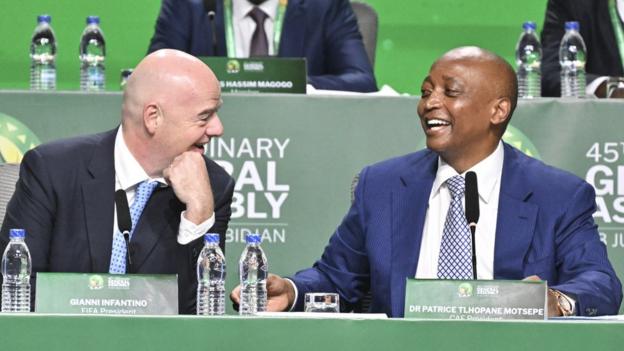 Caf's cancellation of the beIN Sports deal was its second in four years, after it also pulled the plug in 2019 on a guaranteed billion-dollar income provided by a TV deal signed with French media company Lagardere, originally set to run from 2017-2028.
Given the losses caused by that decision, and then by having to pay Lagardere (now known as Sport5) $50m (£40m) in compensation, with the second $25m (£20m) instalment due in December, Caf is increasingly in need of funds.
In July, it announced a financial loss for the year of $15.7m (£12.5m) despite its income increasing by 17% to $125m (£100m) - primarily through increased sponsorship and television rights - although these could be affected by the battle with beIN.
Since his election in March 2021, midway through the pandemic, Motsepe - a billionaire in his own right - has been hoping to use his business acumen and contacts to lead Caf into a brighter economic future.
Along with Fifa president Gianni Infantino, Motsepe hopes that next month's eight-team AFL can boost its coffers, with plans to expand to 24 teams next year.
With Caf's long-term financial future far from certain, the bid to recover at least $90m (£72m) from beIN could backfire should it have to pay another compensation fee - with beIN pushing for a similar amount.
The next steps in this stand-off would appear to be crucial.
BBC