Fiifi Tackie, the spokesperson of the Ayew brothers has indicated that, the future of Andre Dede Ayew will be sorted out in the coming days.
---
Andre Ayew was transferred to Swansea in January after a difficult period at West Ham.
However, following the relegation of Swansea from the English Premier League, it is unlikely Ayew will stay at Swansea next season.

"With Andre, I'm sure that in few days to come, you will get to know where he will be leaving to [for the new season]," he told Goal.com.
Read also:Swansea City reject Fulham's bid for Jordan Ayew
Dede Ayew will be hoping to get a team that will guarantee him regular playing time which will enable him to rediscover his form for the betterment of the Black Stars and his career at large.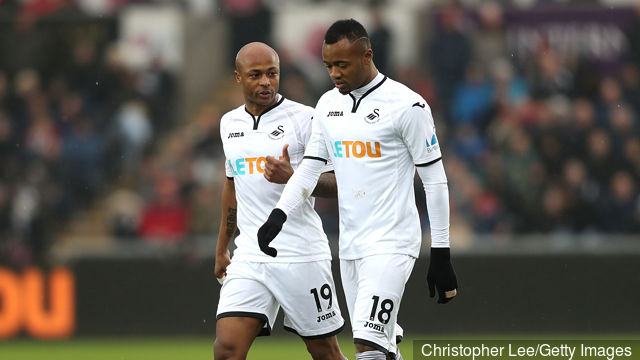 Andre Ayew endured a torrid period in the English Premier League last season.
The former Marseille forward together with his brother Jordan Ayew are both expected to depart the Welsh side.
Jordan Ayew is a prime target for several clubs and Swansea City rejected an 8 million offer for him from newly promoted Premiership side Fulham.
It is understood that Swansea have put a 13 million pound price tag on Jordan Ayew.
Ghana News: Latest Sports News Ghana