CAF and GFA Medical Committee Member, Dr Prince Pamboe is preaching Covid-19 caution as fans are allowed back into stadiums.
This follows the Government of Ghana announcement that spectators will henceforth be allowed to the various football centres across the country.
The Ghana Premier League has been played for seven weeks by clubs without fans as part of the Government's measure to control the spread of the novel Coronavirus.
READ ALSO: 4 footballers who got married in 2020
A letter signed by the Minister of Youth and Sports, Isaac Asiamah on January 5, 2021 stated that all stadiums will be limited to twenty-five percent (25%) capacity.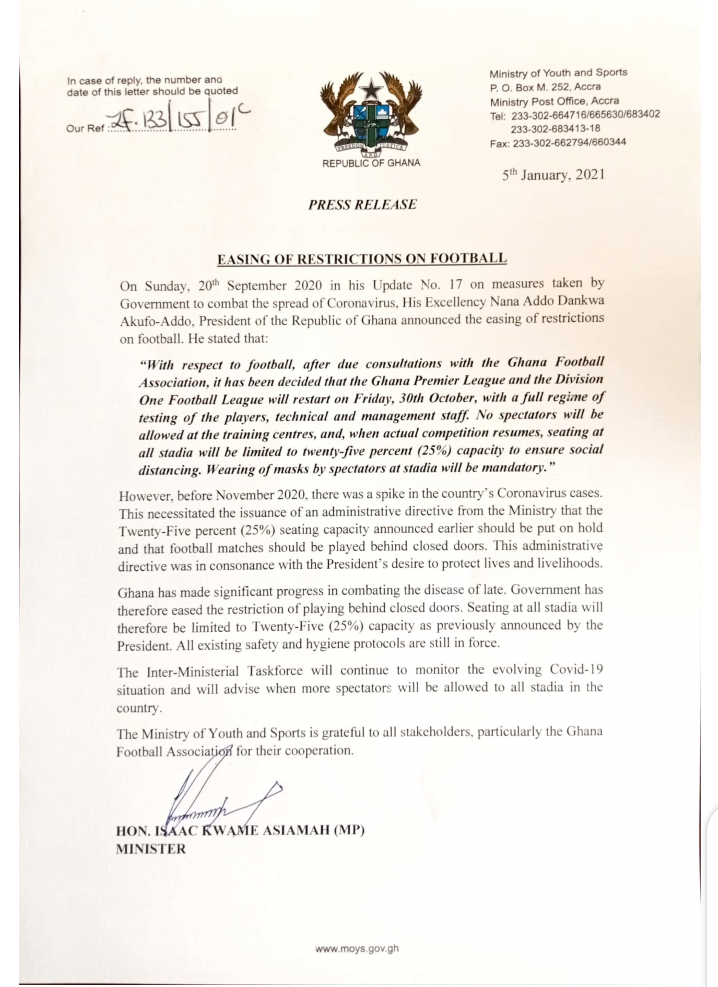 Reacting to the matter, Dr Prince Pambo said measures have to be put in place for the safety of fans.
"The fans who go to the stadia, we should make it easy for those who are to implement the protocols to do it and do it well.

We just have to be a bit strict about it so if it comes ticketing how people should come to the stadia. We should have some measure put in place. We should have some markings where people will literally have to be spaced out, the proper physical distancing which we have been preaching. If you don't have the mask and you go into the Stadia you should be thrown out.

If the various teams will have Covid-19 safety officers in place, these people will have to ensure if someone is not doing it right he should be thrown out of the stadium."
A ban was imposed on football and other contact sport due to the spread of the Coronavirus in March but was lifted after six months.
Legon Cities will host WAFA today in a Ghana Premier League match and it will be the first in months that fans will troop to the stadium.