A tattoo is a form of body modification where a design is made by inserting ink, dyes and pigments, either indelible or temporary, into the dermis layer of the skin to change the pigment.
Some footballers love for tattoos is unmatched and below we look at meanings behind their design.
Memphis Depay
Depay speaking an interview to Unscripted explained that the meaning behind the huge animal, which took an entire day to complete represents the struggles he passed through to reach stardom.
'The lion on my back represents me – I have the heart of a lion. I got it done in Manchester. It took a long time because it's so big, maybe like 24 hours in total
'I always had a feeling that I've been brought up in the jungle: I was always outside, I've been to rough areas and I've been through rough times. The lion is for me, "the king of the jungle", and I always stayed on my feet even though it was rough.'
Zlatan Ibrahimovic
His surname is tattooed in Arabic on the back of his right arm, the names of his sons Vincent and Maximilian on his right arm. He has the common Buddhist "Five Deva Faces Yantra" representing wind, water, fire, creative perception and space, arranged in a way believed to ward off illness and injury, on his lower back.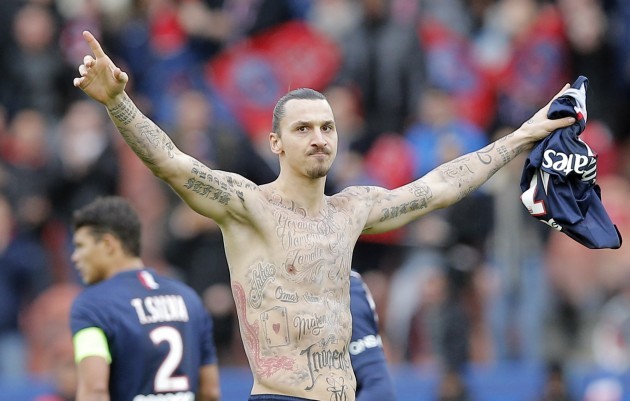 Another Buddhist tattoo, a "Yant Prajao Khao Nirote" is a protective emblem intended to end the suffering of a family, is on his upper right arm. The phrase 'Only God can judge me' is tattooed on his rib cage, said to reflect the player's 'religious and rebellious' nature, taken from 2Pac. He also has a feather, a Koi fish, Polynesian tribal, and ace of hearts and clubs.
Messi
When Messi became a father for the very first time on 2nd November 2012, he got the handprints of his newborn child tattooed on the calf of his left leg.
Read also: 
5 famous footballers who are actors
Raheem Sterling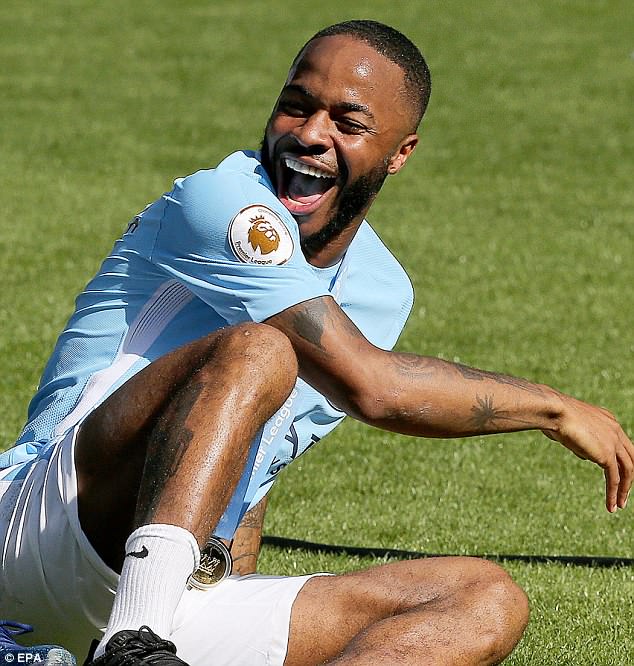 It was reported in 2018 that England footballer Raheem Sterling was forced to defend his new tattoo of an M16 assault rifle, after anti-gun campaigners called it "disgusting".
The Man City forward said it reflected his pledge to never touch a gun after his father was shot dead when he was two years old.
Sergio Ramos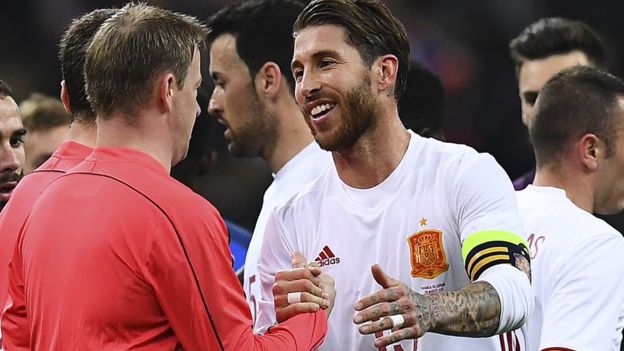 He has the Virgin Mary on his arm and a lion on his back. But the tattoo that caused the most intrigue is Sergio Ramos' knuckles.
The Real Madrid captain asked supporters to guess the meaning behind the numbers 35, 90+, 32 and 19, when he got them inked in red in 2016.
Fans eventually worked out they referred to his various debut successes. When he first started his career at Sevilla, Ramos' first squad numbers were 35 and 32, while 90+ refers to his injury time goal in the 2014 Champions League final against Atletico Madrid.
Leroy Sane 
Leroy Sane was so committed to his latest tattoo that he dedicated four painful days to getting it inked.
The subject? Himself.
Specifically, his goal against Monaco in the final 16 minutes of the Champions League in February 2017.
"I have some things that are important for me personally, so that's why I decided to do it," he told the Mirror last year.
"When I was young, I always wanted to play in the Champions League."
David Beckham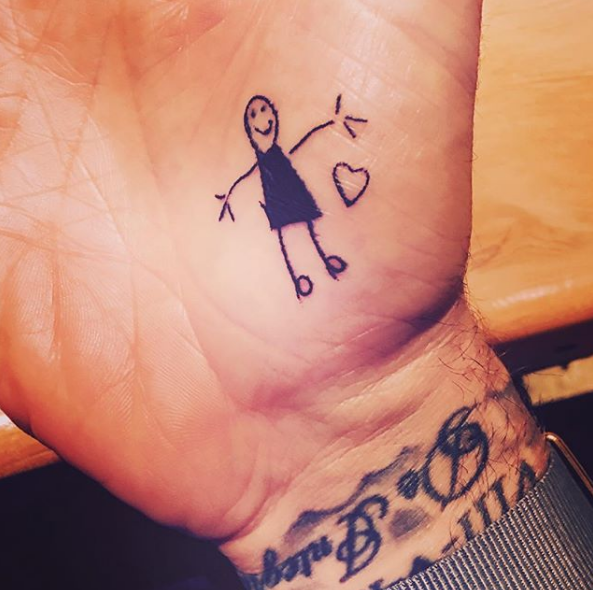 Although many footballers have their sporting achievements immortalised in their tattoos, David Beckham's are different.
He has more than 40 inkings and most of them celebrate his family. All of his children's names are marked in some form on his body, along with his wife Victoria Beckham and his parents.
And in 2015, he permanently inked a stick drawing by his daughter Harper onto his hand, alongside a heart.
"Apparently Harper is allowed to scribble on daddy," he wrote on Instagram.
Andre Gray 
The Watford striker's tattoo took three years to complete and showcases key figures and symbols from the American civil rights movement.
Bob Marley features alongside Rosa Parks and Muhammad Ali, Marcus Garvey and his ship are there, along with the Black Panthers.
Read also:
5 famous footballers who are actors
Premier League clubs spend £260m on agents