Black Princesses head coach, Yussif Basigi has blamed his side's heavy defeat to France in the FIFA U-20 Women's World Cup to poor preparations.
The host nation of the FIFA U-20 Women's World Cup, France thumped the Black Princesses of Ghana 4-1 in their first game of the tournament. 
Goals from Helene Fercocq, Sandy Baltimore and Emelyne Laurent, who scored a brace, brushed away the Princesses with Sandra Owusu-Ansah getting the consolation goal for Ghana.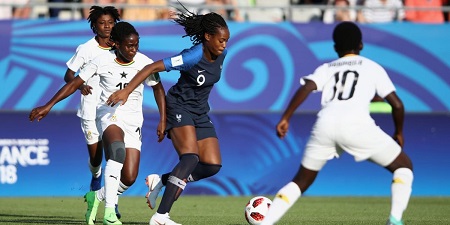 Black Princesses head coach Yussif Basigi admitted his side struggled in the first half against France. Also, poor preparations played a key role with regards to their defeat.
Read also:U20 WWC: France beat Ghana 4-1 in Group A
"We didn't start well, and you can see from the way we conceded early," he said in a post-match interview. "You realize that in the second half we came back strongly and we were able to redeem one goal but unfortunately getting to the end of the game we lost a little bit of concentration and we conceded another goal."
"You know we didn't play any friendly before coming so I knew we were going to face a little difficulty and this is a sign, we started very slowly and it didn't help us at all."
Read also:Black Satellites beat Benin 3-1 as Richard Danso hit brace in Afcon U-20 qualifier
The Black Princesses will lock horns with  Netherland on Wednesday 8, August 2018.