A year ago, Ons Jabeur had a photo of the Wimbledon women's trophy on her phone screen as she chased history.
She swiftly erased it after missing out on the real thing but on Saturday has another chance when she faces Marketa Vondrousova in the final (14:00 BST).
The popular Tunisian hopes her third major final proves lucky as she aims to be the first African or Arab woman to win a Grand Slam singles title.
"Hopefully, I can make history not just for Tunisia but for Africa," she said.
Like last year, sixth seed Jabeur heads into the women's final as the favourite. The 28-year-old faces Vondrousova, who is ranked at number 42 and is also aiming for her own slice of history by becoming the first unseeded woman to lift the Venus Rosewater Dish.
Vondrousova, 24, was in London as a tourist with her wrist in a plaster cast when Jabeur lost to Elena Rybakina last year, following the surgery that sidelined her for six months.
"I'm just so grateful to be here. It's crazy that this is happening," Vondrousova said.
The Czech was runner-up in the 2019 French Open as a 19-year-old, so like Jabeur - who lost in the US Open final two months after her Wimbledon disappointment - has previous Grand Slam final experience to draw on.
Jabeur going to 'learn' from last year
In the Open era, only one player representing an African nation has won a Slam singles title - South Africa's Johan Kriek at the 1981 Australian Open. Kriek also won again a year later, although by then he was representing the United States.
As Jabeur seeks to become the first woman from the continent to triumph, she has been motivated by revenge at the All England Club and used that to despatch Rybakina in the quarter-finals.
The Kazakh was one of four Grand Slam champions Jabeur has had to beat in a tricky route to the final, having also made it past Australian Open title holder Aryna Sabalenka, two-time Wimbledon winner Petra Kvitova and 2019 US Open champion Bianca Andreescu.
She says when it comes to the final, it makes no difference whether you are facing a major champion or not.
"I think a final is a final," Jabeur said. "Whoever could handle more the emotions, whoever could be more ready on the court, will definitely win that match."
Jabeur's run to another major final has come in a stop-start season where she has been hampered by injury and had minor knee surgery.
In typical fashion for a player known as the 'Minister of Happiness' back home, she sees the positives from those troubles and last year's disappointments.
"[The injuries] teach me how to be very patient and accept whatever happened to me ... because it was out of my control," she said.
"I mean, if you tell me you [would] get injured and be in the final of Wimbledon, I would take it."
Jabeur, whose emotional displays have won her many fans, is also hoping it will be third time lucky.
"I'm going to learn a lot from not only Wimbledon's final but also the US Open final, and give it my best," she said. "Maybe this year was all about trying two times and getting it right the third time."
And perhaps to avoid jinxing things, she has revealed this year what is on her phone's lock screen to motivate her this time round, telling reporters: "You're going to know after the final."
No clothing sponsor yet, but cat sitter is sorted for Vondrousova
Vondrousova has come through tough tests in the past two rounds, knocking out American fourth seed Jessica Pegula in the quarter-finals before a two-set win over Elina Svitolina. The latter came in front of a partisan Centre Court crowd, who were emotionally invested in Ukrainian Svitolina's run that came nine months after having a baby and against the backdrop of war.
She is the latest in a long line of Czech female tennis players to reach Grand Slam finals, with nine major women's singles finals in the last 10 years - including Saturday's match - featuring players from the country.
But grass is not her best surface and certainly not one on which she would have expected to win a major title.
"When it was clay or hard, maybe I would say, yeah maybe it's possible," said Vondrousova, who has been flying so far under the tennis radar recently that she no longer has a clothing sponsor.
"But grass was impossible for me. It's even crazier that this is happening."
So unexpected was her run that she told her husband to stay at home in Prague to look after their cat, Frankie.
She has now changed her mind.
"We texted the cat sitter to come to our home," she said. "He [husband] is coming tomorrow."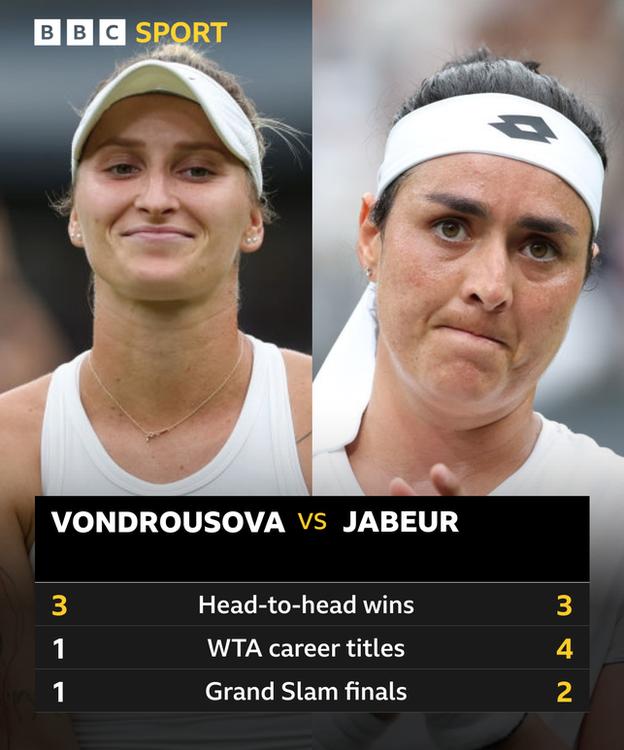 'Very interesting' final - analysis
Former world number one Tracy Austin on BBC's Today at Wimbledon: "This is the major she [Jabeur] wants. She's put Wimbledon above everything else on the tour. It's what she's wanted her entire career since she was a little girl.
"Last year it was either 50-50 or Rybakina with a little bit of an edge. But now she's against Vondrousova - number 42 in the world, unseeded, the first unseeded finalist in 60 years, and she's just been playing with house money.
"Remember in the quarter-finals, Vondrousova was down 4-1 in the final set [against Pegula] and somehow turned that around. She's loosened up and doesn't seem to be bothered about what stage it is. She's been to one final before, Roland Garros a few years back, it will be very interesting."
Nine-time Wimbledon singles champion Martina Navratilova on BBC's Today at Wimbledon: "[Vondrousova] has a nice game for grass. Obviously, the variety works for every surface but especially on grass with the drop shots and the slices.
"She's only won four matches on grass in her career [before this fortnight] and she's been around for six or seven years. So really it's surprising she hasn't done better, but she's finally putting things together.
"[Against Svitolina] she was firing on all cylinders and looked a veteran of grass-court play.
"Clearly, Vondrousova likes the roof closed. It takes the wind out of the equation, and you can just hit your shots knowing the ball will land where it's supposed to. Vondrousova should play the final hoping the roof will be closed."
BBC