War is over if you want it, sang John and Yoko. And the Olympics ends that way, too. The athletes are, at last, beginning to realise their power. 
Just as wars need people, an Olympics need runners and swimmers and riders and rowers. Without them, it's nothing. 
So the interventions of United States Track and Field and USA Swimming are game-changing. These are not just any old athletes calling for postponement — but American athletes. And American money keeps the Olympic movement going, specifically that provided by the broadcaster NBC.
In the past, it has even pretended the Olympics is not a live event to ensure American performances are shown at prime time — delaying the screening of races sometimes by many hours to maximise national interest. 
American sports fans are insular. They care about their own. American athletes and broadcasters sneeze and the Olympic movement gets a cold, or finally wakes up to the threat of coronavirus.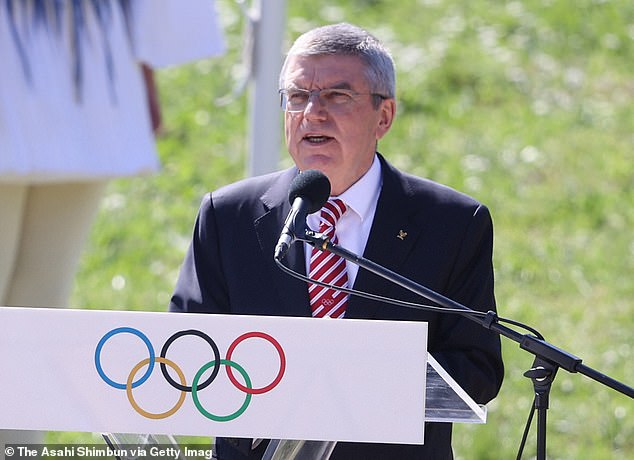 IOC president Thomas Bach has repeatedly expressed the Games would go ahead as planned
Thomas Bach, president of the IOC, is a man who seems sorry to see cheating Russians go, so we shouldn't expect him to be on the right side of any argument — but on this one he has been particularly impervious to global moods. 
In repeatedly expressing the 2020 Games would go ahead without a hitch — and continuing to cling to this fantasy — his only allies are his Japanese hosts. 
As the rest of the world shuts down and athletes are advised to avoid the social contact and travel necessary to train and hone their performances, Bach and Tokyo's organisers have been unhelpfully strident voices, insisting there is no need to change course. 
They were at it again yesterday, delaying a decision on whether to postpone — or stage a reduced Games — by another month, a time when many epidemiologists predict parts of the planet will be entering their coronavirus peak. 
Yet there remains a trump card to be played, a move that will render any further discussion meaningless: metaphorically, the ball is in the athletes' court. As more have expressed disquiet about the pressures they are being placed under, Bach's position is increasingly preposterous.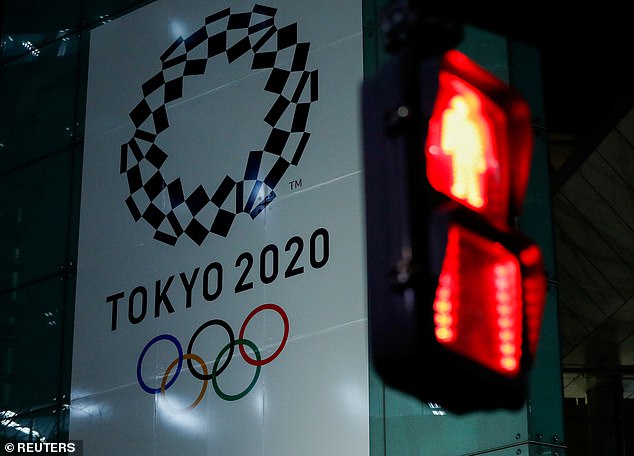 The summer Games in Tokyo are under massive threat due to the coronavirus pandemic
Lord Coe, president of the IAAF, might have thought he would win friends by talking about premature cancellation as a threat to athletes' earnings. Instead, there was a backlash, even from those he was hoping to protect. 
Coe's concerns seemed out of touch when the athletes were balancing risks and rewards, wondering whether their pursuit of an Olympic dream would come at a cost to family or friends. 
On a pure sporting level, it is no longer a fair competition, with some athletes more able to prepare than others; on an ethical level, it is a minefield, with many governments and localities now treating leaving the house for anything bar absolute necessity as an act of extreme callousness. 
'Many more families are going to lose loved ones before their time,' intoned the Prime Minister last week, which puts the pursuit of medals, or even Olympic participation — the limit of the dream for many — into perspective. Yet speaking to German regional broadcaster SWR at the weekend, Bach remained in denial. 
'The Olympic Games cannot be moved like a football game next Saturday,' he said. 'It is a complex undertaking and you can only act responsibly when you have a clear decision-making foundation. A cancellation of the Games would be the least fair solution. A cancellation would destroy the Olympic dream of 11,000 athletes and of 206 Olympic committees.' Oh, the committees! Won't they think of the committees?
Oh, the committees! Won't they think of the committees? 
Here is what is wrong with Bach's statement: everything. It is stupid, mendacious and selfaggrandising. Bach thinks his job is more complex and important than that of other sports administrators. It isn't. They all have logistical issues, and while Bach's event is bigger than an individual football match, it hasn't started, which gives it a sizable advantage over, say, Europe's major football leagues.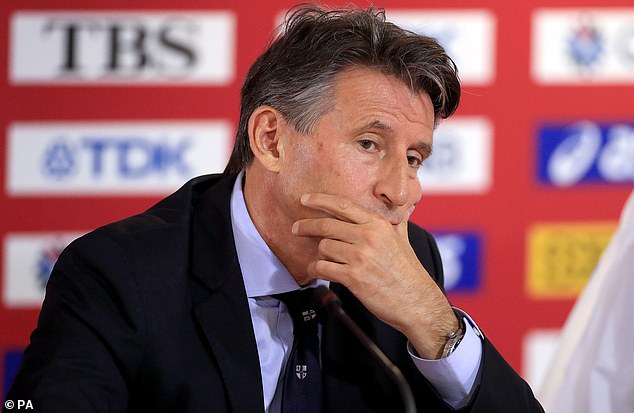 IAAF president Lord Coe's concerns about the 2020 Games seemed out of touch
So it can be moved, in its entirety, once the future of the planet and its people are known. And if that happens to cut across the scheduling in some Olympic sports, tough. 
It's the Olympics. It's bigger. Everyone understands. If the IAAF have to move the 2021 World Championships to accommodate Tokyo next summer, so be it. We all know who wins any battle between those two events. 
Mo Farah has four Olympic golds and six from world championships but if he was pushed for space, which do you think would be at the front of the trophy cabinet? 
As for the need for a clear, decision-making foundation, that's exaggerated, too. Bach just needs to make one clear decision, which is postponement, and then use the time to review options.
And if he really cannot come up with logistic alternatives, he is not intellectually capable of leading the movement and should make way for someone who is. 
Finally, having unloaded his own problems, Bach sees fit to mention the athletes. Yet, increasingly, the athletes are speaking for themselves. 
Even as Bach was detailing his trumped-up woes, Max Hartung, a German fencer like the IOC president, was explaining why he could not compete at the Games. 
Hartung, the head of Germany's athletes' commission and a four-time European champion who has already qualified for Tokyo, said he could find no justification in preparing for the Games at a time when everyone had to play their part in stopping the spread of the virus. 
'I cannot train at the moment,' he said. 'More importantly, I can show strength to do the right thing instead of training. I will not take part on the scheduled dates.' 
And that's the key to it, right there. The scheduled dates. No dreams have to be killed, no professional lives ruined. Nobody is saying the Games will not take place. Just not this summer. 
Not now. It is up to the organisers to find a solution because, undoubtedly, one exists. 
Bach may have thought he could have an Olympics that endured coronavirus, he may have thought he could lay on an event that was an antidote to so much human misery, but he cannot have a Games without athletes. 
It was always going to be their call. Now he must heed it.
Source: dailymail.co.uk