Wilfred Osei Kwaku affectionately called Palmer has confirmed that its lawyers have not received any ruling from Court of Arbitration for Sport (CAS) contrary to reports making rounds.
In a statement, the Tema Youth bankroller said CAS has not given any reason for the delay despite confirming the ruling will be out yesterday.
"Contrary to reports suggesting our lawyers have received the much anticipated ruling from the Court of Arbitration for Sports (CAS). We wish to establish the fact that our lawyers are yet to receive the ruling from CAS."

"CAS has not given any reason for the delay, but we are hopeful that in due course the ruling will be sent to all parties concerned."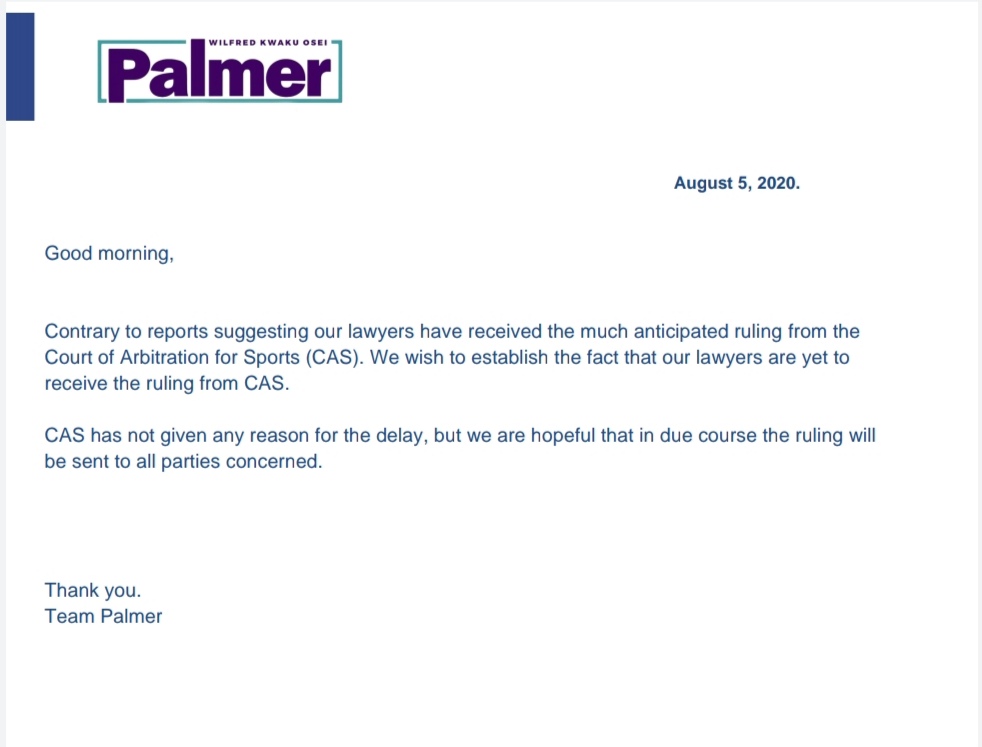 CAS on Tuesday were to announce the ruling on the case involving Palmer and the GFA. 
The Sports court tribunal last month adjourned the ruling which was supposed to be out on Friday, July 17 to August 4.
The whole nation awaited the verdict from the CAS, as well as hearing any information from the two parties involved.
However, the day went by without CAS announcing the verdict.
Tema Youth bankroller Palmer is in court after he was disqualified from the Ghana Football Association presidential race, which saw Kurt Okraku emerging as the winner.
The outcome could either legitimise the tenure of the incumbent GFA president, Kurt Okraku, or require a fresh election involving the plaintiff, as Palmer.