The Russia 2018 World Cup will undoubtedly go down as one of the best ever witnessed by football fans.
From the thrills and fun on the pitch, the excitement and story headlines given to us by Croatian President Kolinda Grabar-Kitarović and the kind gesture exhibited by the Japanese team and their supporters, this will forever remain one of the best ever Football Mundial.
Ohh not forgetting the popular " Football is coming home from the English end", but football did not land at London but rather in Paris.
France after their dissapointment two years ago in the Euros fought their way to become World Champions for the second time.
{youtube}
}
Here are all the quick World Cup statistics you need to know
FULL STATS IN RUSSIA 18
Total mactches= 64
TOTAL GOALS SCORED - 169 (2.64 per match)

OWN GOALS SCORED - 12

PENALTIES TAKEN - 29

PENALTIES SCORED - 22

PENALTIES MISSED - 7

FREE-KICK SCORED - 7

TOTAL RED CARDS - 4

TOTAL YELLOW CARDS - 219


TOP SCORERS
1. H. Kane (England) - 6
2. K. Mbappé (France) - 4
3. Griezmann (France) - 4
4. C. Ronaldo (Portugal) - 4
5. R. Lukaku (Belgium) - 4
6. D. Cheryshev (Russia) - 4
7. Ivan Perišić (Croatia) - 3
8. M. Mandžukić (Croatia) - 3
9. E. Hazard (Belgium) - 3
10. D. Costa (Spain) - 3
11. E. Cavani (Uruguay) - 3
12. A. Dzyuba (Russia) - 3
13. Y. Mina (Colombia) - 3
14. P. Coutinho (Brazil) - 2
15. J. Stones (England) - 2
16. M. Salah (Egypt) - 2
17. L. Suárez (Uruguay) - 2
18. A. Granqvist (Sweden) - 2
19. L. Modric (Croatia) - 2
20. D. Neymar Jr. (Brazil) - 2
21. S. Agüero (Argentina) - 2
22. A. Musa (Nigeria) - 2
23. M. Jedinak (Australia) - 2
24. S. Heung-min (South Korea) - 2
25. W. Khazri (Tunisia) - 2
26. T. Inui (Japan) - 2
27. 1 GOAL - 84 players

AWARDS
BEST PLAYER: Luka Modric (Croatia)
BEST YOUNG PLAYER: Kylian Mbappé (France)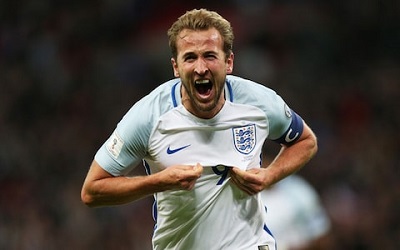 TOP SCORER: Harry Kane (England)
BEST GOALKEEPER: Thibaut Courtois (Belgium)
BEST FAIR PLAY TEAM: Spain


WORLD CUP RANKINGS

1. France
2. Croatia
3. Belgium
4. England
5. Russia
6. Sweden
7. Brazil
8. Uruguay
9. Colombia
10. Switzerland
11. Japan
12. Mexico
13. Denmark
14. Spain
15. Portugal
16. Argentina
17. Senegal
18. Poland
19. Tunisia
20. Panama
21. Korea Republic
22. Germany
23. Serbia
24. Costa Rica
25. Nigeria
26. Iceland
27. Peru
28. Australia
29. Iran
30. Morocco
31. Saudi Arabia
32. Egypt

PRIZE MONEY DISTRIBUTION
1ST: CHAMPIONS - $38m
2ND - $28m
3RD PLACE - $24m
4TH PLACE - $22m
5TH–8TH PLACE (QUARTER-FINALS) - $16m
9TH–16TH PLACE (ROUND OF 16) - $12m
17TH–32ND PLACE (GROUP STAGE) - $8M

WORLD CUP WINNERS
Brazil - 5
Germany  - 4
Italy - 4
Argentina - 2
France - 2
Uruguay - 2
England  - 1
Spain  - 1

Only three managers have won the World Cup as both a player and a manager: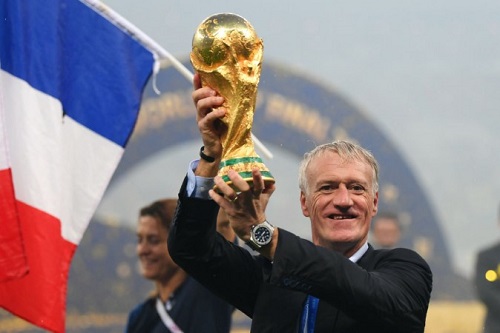 1958 & 1970:  Mario Zagallo
1974 & 1990:  Franz Beckenbauer
1998 & 2018:  Didier Deschamps

GOALKEEPING ERRORS THAT LED TO GOALS AT THE 2018 WORLD CUP
Wojciech Szczesny- Poland
Manuel Neuer- Germany
Willy Caballero-Argentina
Fernando Muslera- Uruguay
Danijel Subasic- Croatia
Mohammed Al Owais- Saudi Arabia
David De Gea- Spain
Franco Armani- Argentina
Eiji Kawashima- Japan
Hugo Lloris- France
 

MOST MAN OF THE MATCHES WON
Griezmann (3)
Modric (3)
Hazard (3)
Kane (3)
Ronaldo (2)
Cheryshev (2)
Coutinho (2)
Mbappé (2)
Suárez (2)


GOALS SCORED FROM OUTSIDE THE 18yard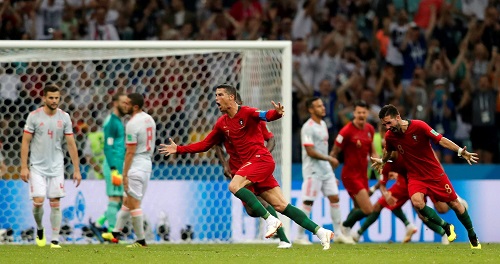 Cristiano Ronaldo (Freekick)- Portugal
Philippe Coutinho- Brazil
Nacho- Spain
Luka Modrić- Croatia
Aleksandr Golovin (Freekick)- Russia
Aleksandar Kolarov (Freekick)- Serbia
Juan Quintero (Freekick)- Columbia
Granit Xhaka- Switzerland
Son Heung-min- South Korea
Toni Kroos (Freekick)- Germany
Jesse Lingard- England
Luis Suárez (Freekick)- Uruguay
Mohamed Salah- Egypt
Ricardo Quaresma- Portugal
Angel Di Maria- Argentina
Benjamin Pavard- France
Denis Cheryshev- Russia
Kieran Trippier (Freekick)- England
Paul Pogba- France
Kylian Mbappé- France

OWN GOALS
Aziz Behich (against France)
Fernandinho (against Belgium)
Ahmed Fathy (against Russia)
Edson Álvarez (against Sweden)
Aziz Bouhaddouz (against Iran)
Oghenekaro Etebo (against Croatia)
Thiago Cionek (against Senegal)
Denis Cheryshev (against Uruguay)
Sergei Ignashevich (against Spain)
Yann Sommer (against Costa Rica)
Yassine Meriah (against Panama)
Mario Mandžukić (against France)


PENALTIES BREAKDOWN
Griezmann (3)
Kane (3)
Jedinak (2)
Granqvist (2)
Hazard
Kagawa
Modric
Salah
Sassi
Ronaldo
Vela
Al-Faraj
Ansarifard
Sigurdsson
Moses
Dzyuba
Ronaldo (missed)
Sigurdsson (missed)
Cueva (missed)
Messi  (missed)
Al-Muwallad (missed)
Modrić (missed)
Ruiz (missed)

SCORED - 22
MISSED - 7


FREEKICKS SCORED
Aleksandr Golovin
Cristiano Ronaldo
Aleksandar Kolarov
Juan Quintero
Toni Kroos
Luis Suárez
Kieran Trippier
Read also:Aduana stars prepared to face AS Vita Club - Bright Adjei
PLAYERS ON RETIREMENT FROM INTERNATIONAL DUTIES AFTER RUSSIA
Javier Mascherano (Argentina)
Lucas Biglia (Argentina)
Andres Iniesta (Spain)
Keisuke Honda (Japan)
Sardar Azmoun (Iran)
Sergei Ignashevich (Russia)
(only confirmed ones)
{youtube}
}