Apple has revealed its first Mac computers powered by chips of its own design.
In June, the company announced it would transition away from the Intel processors it had used since 2006.
Apple said the advantages of using the M1 chip included better battery life, instant wake from sleep mode, and the ability to run iOS apps.
It added it had optimised all of its own Mac apps, but now needs to convince other developers to do likewise.
The new computers include new versions of its:
13in (33cm) MacBook Air, which no longer requires a fan to keep its processor cool
13in MacBook Pro, which Apple said can now play video for 20 hours on a single battery charge - twice as long as before. It keeps its fan
Mac Mini screen-less desktop computer
Apple's website indicates this will be the only type of MacBook Air it sells from now on, but it will continue to offer the other two machines with Intel chips as an option.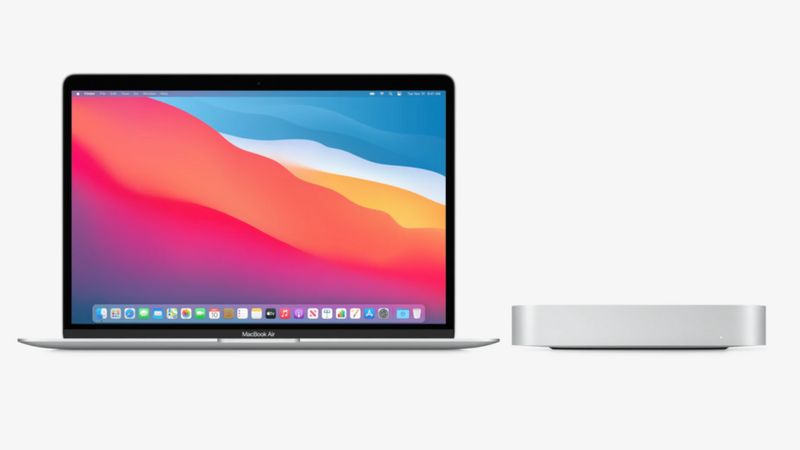 It did not unveil new versions of its iMac or Mac Pro computers, suggesting Apple might be waiting for more advanced versions of the chip with more memory and greater graphics-processing capabilities to use in those.
The new Macs will go on sale next week. They will run the MacOS Big Sur operating system, which will be released to existing Intel-based Macs this Thursday.
Customised chip
Apple claimed the M1 can deliver the peak performance of the "latest PC laptop chip" while using just a quarter of the power, or be made to deliver twice the CPU (central processing unit) performance.
But one downside is the Macs now only come with up to 16 gigabytes of memory.
That is half the amount of Ram the Intel-based version of the MacBook Pro offers and one quarter the amount the equivalent Mini goes up to. Video editing software and games are among apps that typically benefit from having more memory.
Apple's chips are sometimes referred to as being Arm-based because it licenses the instruction sets - which determine how processors handle commands - from a UK-based company called Arm.
But the core processor circuits are of the American company's own design.
One advantage is that Apple gets control over which accelerators to include. These are special sections that specialise at handling certain tasks such as machine learning or cryptography.
It also gets to integrate memory and other functions into a single package, instead of using other specialist chips, which should contribute to performance gains.
Source: BBC