A Kenyan and half-Tanzanian Instagram model has come out to reveal that she is now ready to lose her virginity. 
She might be joking, or trolling but the Kenyan lady has said she's ready to lose her virginity.
The lady identified as Shay Evah, who claimed to be half-Kenyan and half-Tanzanian looks more like a model and most of her photos she uploaded on Instagram seem to be ones taken in exotic places and quite provocative.
But she seemed to have courted a little bit of controversy when she captioned one of her photos:
"I Just Feel Like I Need To Lose My Virginity😍😂😌 Sio Kwa Mshepu Huo🤩Sema Kanenepa Sijui Kunani🤔"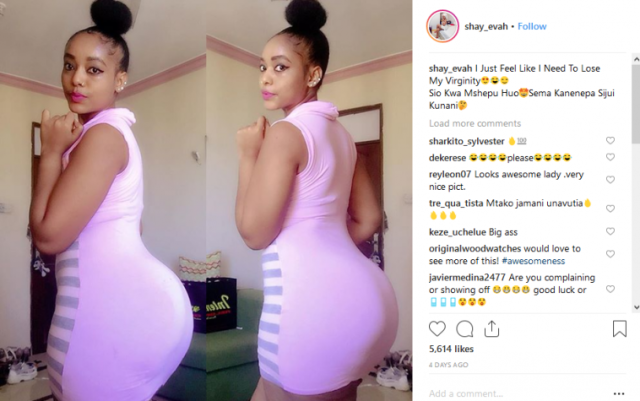 Check out some eye-popping pictures of Shay Evah here:
https://www.instagram.com/p/Bqtzw4IgWtz/?utm_source=ig_web_copy_link
https://www.instagram.com/p/BqcM0QsAWfw/?utm_source=ig_web_copy_link
https://www.instagram.com/p/BnbbGqyBoMQ/?utm_source=ig_web_copy_link