A man has been arrested after shocking CCTV footage revealed the moment a jogger pushed a woman in front of a bus on Putney Bridge.
A 50-year-old man was arrested on suspicion of causing grievous bodily harm at an address in the Chelsea area of London this morning following a public appeal.
He was taken to a south London police station and has now been released pending further enquiries, Metropolitan Police said.
The 33-year-old woman was lucky to escape serious injury after a bus driver swerved to avoid her on the bridge in south west London.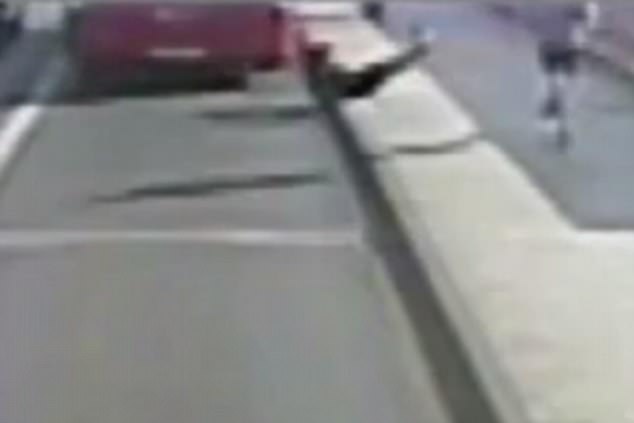 The narrowly escaped death 
Speaking earlier this week, sergeant Mat Knowles said: 'After he pushed her he ran across the bridge and 15 minutes later came back.
'By this time the members of the public who had helped the woman were gone and she tried to talk to him as he ran past her but he just ignored her.
A senior source from the bus company Go Ahead London said it was only down to the slow speed of the vehicle that the accident did not result in serious injury.
This morning on the bridge Putney locals on their way to work slammed the assault as 'despicable'.
One woman, who refused to be named, said: 'I saw the video last night and I just couldn't believe it, the joggers round here can be a real menace.
'It is despicable. That poor woman, thank god she is okay.'
Another resident, a man in his late 20s, said:''I was watching the video last night and I couldn't believe how close she came to being under that bus.
'Some of the joggers around here can be really rude, but you would never expect that.' Another commuter said: 'This driver is a hero it could have so easily ended differently.'
Credit: Daily Mail