The Social Security and National Insurance Trust (SSNIT) has received GH¢1.6 million as dividend for the 2017 financial year from its two subsidiaries.
Labadi Beach Hotel and Trust Hospital, the subsidiaries in separate meetings presented GH¢1 million and GH¢579,979 respectively to the management of SSNIT in Accra on Monday, November 26, 2018.
While in the case of the hospital it was the first time it had made such a move to pay dividends to its shareholders since it was incorporated in 2010, the hotel was rather resuming payment of dividends after a break in 2016.
Receiving the dividend, the Director-General of SSNIT, Dr. John Ofori-Tenkorang, commended the board, management and staff of both institutions for the hard work and commitment they had exhibited for the last one and half years.
"I must also commend the board and management of SSNIT for the foresight to overhaul the boards of our subsidiaries across the country," he stated.
Restructuring the boards, he added, was done with a view to strengthen the subsidiaries and make available the relevant expertise to improve the overall corporate governance in these organizations.
The DG observed that the trust's investment portfolio registered a 5.77 percent real return in 2017 as against 5.93 percent in 2016.
The performance, he said, was above the external actuarial target of 3.25 percent.
"Management of SSNIT is committed to restructuring its investments and will also invest in low-risk but high-yielding investment portfolios.
"Based on sound policies adopted, the board and management are confident that in the coming years, a lot more investee companies will be posting some very good returns," he said.
Presenting the cheque, the Managing Director (MD) of the hospital, Dr. Francis Ahiaku, stated that the payment of dividend was in the right direction because SSNIT remained the owner and shareholder of the hospital.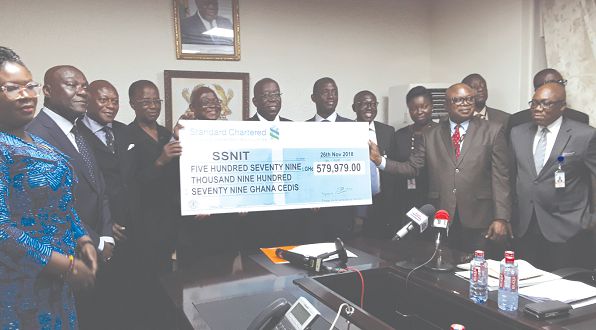 He stated that the company currently operated nine facilities, made up of three hospitals and six clinics, all located within the Accra-Tema metropolis.
"It is the vision of the company to establish and operate world-class hospitals and clinics within the West African sub-region," he stated.
The Head of Sales and Marketing of the hotel, Mr. David Eduaful, also gave a firm assurance that resources given to the hotel would be effectively put to use.
"I think a relationship must be profitable to the parties involved, so if it is profitable and growing it makes everyone happy. So as a hotel, we are very proud to pay this dividend today," he said.
Ghana News: Latest news in Ghana