Ghanaian actor, John Dumelo has had his say on the latest conversation over a new parliament chamber worth over 200 million dollars which is yet to be built.
The actor took to his twitter page to vent out his grievances of the whole new parliament chamber which is worth over 200 million dollars.
According to him, building a new parliament chamber for the parliamentarians that will cost Ghana such a huge amount of money is not important because there are better things in the nation that needs to be done.
"$200m can can build 10 factories to employ 10,000 youth. We the youth are pleading with parliament. Yes it's necessary but pls don't build that chamber now. #DropThatChamber", he tweeted.
John Dumelo later pleaded with parliamentarians to halt building the new chamber with immediate effect since trivial issues are there to pay more attention to.
'"$200m can completely refurbish Korle-bu and even build more hospitals so Ghanaians will stop dying from lack of oxygen, beds, drugs etc. We are pleading with parliament not to build that chamber now. #DropThatChamber", John Dumelo added.
The new parliamentary chamber will have a sitting capacity of 450 when completed and it will be constructed by the architectural firm – Adjaye & Associates.
It is expected to house facilities including diplomatic offices, a library, a museum, a church, a mosque, eateries, press conference rooms, galleries, a car park, an upper gallery garden, a post office and other facilities to complete the Parliamentary enclave.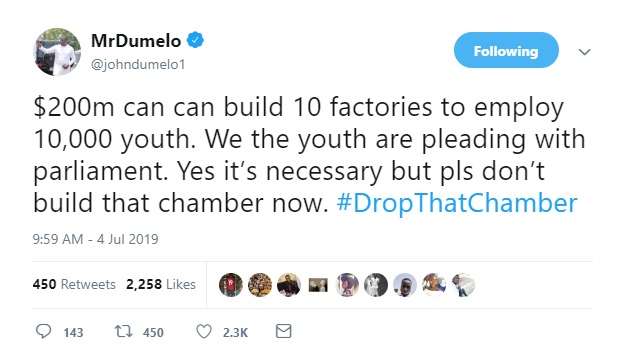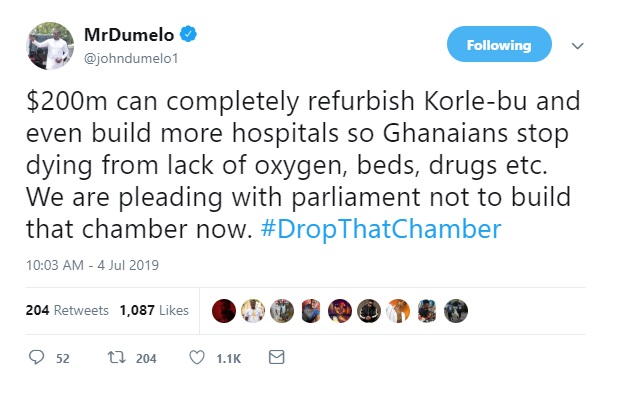 ALSO READ;