Award-winning theatre personality, Nii Commey may not be staging as many plays as theatre lovers want him to, but anytime he does, he gives them every reason why his stage plays are uniquely addictive and unforgettably relatable to circumstances and issues around the patrons- and this was evident in his latest stage masterpiece, "Potholes".
Celebrating 10 years since the staging of the legendary play "Romantic Nonsense", Nii Commey once again provided his patrons with organic laughter filled with crispy characters providing delicious dialogues and lofty language.
Blending three cardinal areas that catch the attention of the average African- politics religion and romance, the Playwright was able to weave his story in a way that naturally generated cheers, shouts, and active participation. It is, therefore, no surprising patrons cannot stop interacting about the characters and their display.
READ ALSO: Nii Commey's latest play "Potholes" addresses politics of promise and fail in African societies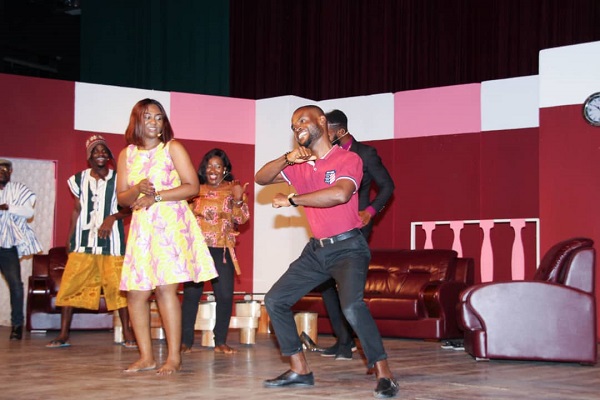 The high voltage stage play attempts to satirize the loyalists, wet-blankets and sycophants in our social-political endeavours
"Potholes" is set in the sitting room of Bishop Trinity, a respectable and honourable man of God, who is convinced by a self-acclaimed foot soldier, Kpakpo By heart and a Pan-Africanist with nothing to show for it, Malachi.
The story wears on as Bishop Trinity finally agrees to contest for the forthcoming municipal elections, just for the pomp and pageantry to be greeted by diverse challenges, unforeseen circumstances and rough roads. This is where the real identities of all those surrounding him begin to unfold.
Character assassination, media reports, physical attacks, contract robberies, and sexual seductions were some of the activities that welcome him. But someway somehow, Bishop Trinity is finally exonerated when confessions from unimaginable characters around him.
In an interaction with Nii Commey after the show, organic writer, director and executive producer, narrated how far his storytelling outfit has come and what informed the play "Potholes".
"It's been 10 years since we started our stage plays at the National theatre. There have been so many challenges. The systems; the people and society we find ourselves in can sometimes stifle or present to you riddles and puzzles that you have to unravel. And this was what culminated into Potholes" He said.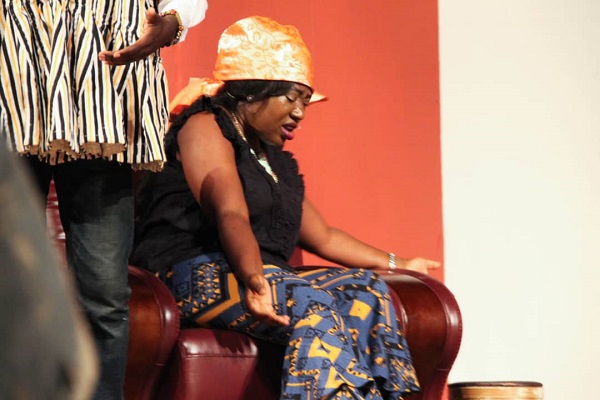 Not only did Nii Commey make use of only a -six- man cast who enthralled the audience, but also provided his audience with breathtaking energy and dexterity, well-coordinated dance movements and silky voices.
"There are very good writers out there, but Nii Commey gives me creativity that makes me always want to watch more from him.
His plays are not only hilarious, but also filled with immediacy, directness, and you can always feel and see the society in which you are and all the charters you meet daily, right on stage." a patron who gave her name as Mamaa said.
Potholes also typifies the society we find ourselves in, and how we position ourselves in times of difficulties and challenges. The plot was filled with intensity; strong conflict created amongst the various characters; saturated suspense; enhanced costuming and setting all culminated into providing the audience a night of memorable theatre experience.
The play, however, had slight flashes of sound hitches but was quickly remedied by the technicians, and that did not affect the ever cheering and effervescent audience.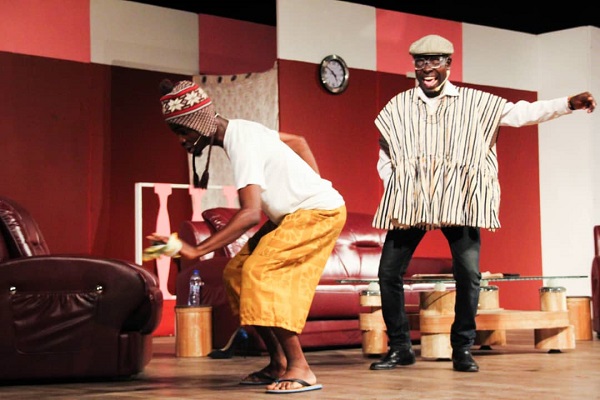 Admiration for Nii Commey's theatrical productions continue to soar, as he distinguishes himself as a Creative Writer with the magic wand to not only plop the seats of his audience with laughter but also to address diverse socio-political issues in Africa under a highly lighter tone.
His creative plays are usually plays for the now, for tomorrow and for generations yet to be born. No wonder Universities such as University of Cape Coast and University of Education, Winneba find his plays so attractive for academic work.