Event Guide Africa, organizers of Ghana Event Awards have released the list of top 100 events in Ghana. 
"A memorable year indeed" as we witnessed back to back grand and spectacular events in the year 2018.
These efforts and creativity need to celebrated as one of Ghana's events and entertainment portal EVENTGUIDE brings you the top 100 events in 2018.
In no particular order, the final shortlist is a compilation from the general public, top Industry players which is based on key elements that constitute a successful event.
In terms of Co-ordination, Attendance, Timing, Performance, Logistics below is the list of Top 100 events in the year 2018.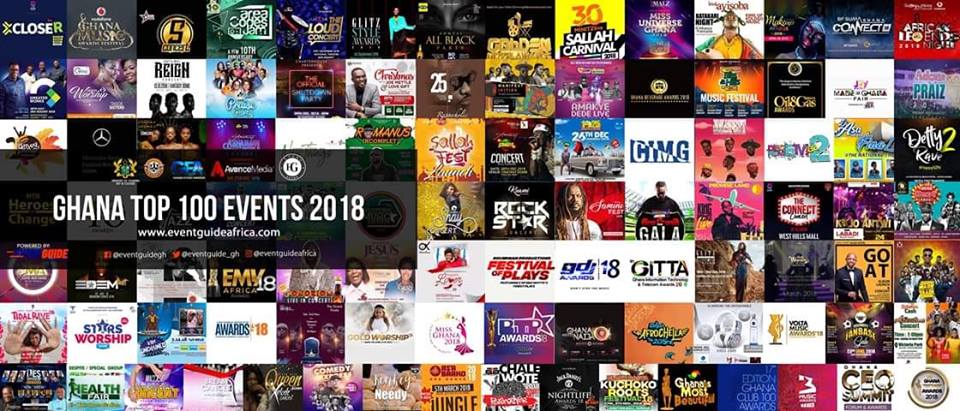 Full list below.
1.30minitz live Sallah carnival 2018
2.3Music Awards 2018
3.40 UNDER 40AWARDS 2018
4.Adom Praiz 2018
5.Adoma Vrs Adoma Concert
6.Adonko RTP Awards 2018
7.African Legends night 2018
8.Akwaaba Group All black Annual Party 2018
Amakye Dede Live 10.AMG Medikal The Connect concert 2018
11.Asa Baako
12.Ashaiman to de world concert 2018
13.August worship 2018
14.BF Suma Ghana connect 2018
15.Bhim concert 2018
16.Bliss on Hills 2018
17.Cece Twum Gold Worship 2018
18.Central music awards 2018
19.Chalewote Festival 2018
20.Coolbreeze Concert
21.Decemba 2 Rememba
22.Despite Group Health Fair
23.Di ASA
24.DJ Mensah All white Party 2018
25.E.L Bar Concert 2018
26.Easter Comedy show 2018
27.Eastern Music Awards 2018
28.Edemfest 2018
29.Efya Girl Talk concert 2018
30.Emy Awards 2018
31.Fire For Fire Gala
32.Ghana Beverage Awards
33.Ghana CEOs Summit
34.Ghana club 100 awards 2018
35.Ghana DJ Awards 2018
36.Ghana Information Technology & Telecom Awards
37.Ghana Makeup Awards 2018
38.Ghana Meets Naija 2018
39.Ghana Most Beautiful
40.DKB Comedy Express
41.Ghana oil and Gas awards 2018
42.Ghana Rocks 2018
43.Ghana Tertiary Awards 2018
44.Glitz African Fashion Week 2018
45.Glitz style Awards 2018
46.Glitz Woman of the year honors 2018
47.Goat Album launch and concert
48.Golden Movie Awards 2018
49.Greater works 2018
50.I am Tic concert 2018
READ ALSO:
2019 Ghana DJ Awards open for nominations
Ghana DJ Awards19: Pub Fest to hit Purple Pub this Friday
Organisers of Ghana Music Awards should make 'Azonto' a genre - Gasmilla
51.iyes 2018
52.Jack Daniels Nighlife Awards 2018
53.Joyprime Made In Ghana Fair
54.July Fest
55.Kenkey for the Needy
56.King Ayisoba Batakari Night 2018
57.King promise live 2018
58.Kojo Antwi Live 2018
59.KTU SRC Awards
60.Kuame Eugene Rock Star concert
61.Kuochoko Roots Festival
62.Maccasio Total Shutdown Concert
64.Made In Taadi concert 2018
65.Manifestive 2018
67.Mercedes Benz Fashion Festival 2018
68.Miss Ghana 2018
69.CIMG Awards
70.Miss Universe Ghana 2018
71.Mr. Eazi Detty Rave 2018
72.MTN Heros Of Change
73.Night of 1025 laughs and music
74.Ohemaa Mercy Tehillah Experience 2018
75.Okay Fm Party 2018
76.Okyeame Kwame Flaunt your love 2018
77.One Man One Breast Awareness
78.Ponobiom Live In Concert
79.Praise Party
80.Rapperholic 2018
81.Reign Album concert
82.Romanus Incomplete 2018
83.S concert 2018
84.Saminifest
85.Sista Afia Xplode Concert
86.Social Media Week
87.Stabic Jazz Festival
88.Stars In Worship
89.Tidal Rave 2018
90.Uncle Ebo Festival Of Plays
91.Vodafone Ghana Music Awards 2018
92.Volta music awards 2018
93.VVIP Sallahfest 2018
94.Wendy Shay(Shay on you) concert 2018
95.Western Music Awards 2018
96.Women In Worship 2018
97.Xmas With JoeMettle & Love Gifts
98.Yfm Area Code 2018
99.Zylofon Cash Aflao Activation Concert
100.Zylofon Celebrity Fanbase Gala 2018