TV3's news anchor, Natalie Fort has indicated that her annual leave has nothing to do with an impending pregnancy and that reports circulating on social media are false.
She explained that her personal desire to further her education abroad necessitated the annual leave.
Social media reports indicated that Ms Fort, as a result of the pregnancy had asked to go on an unpaid one year leave of office which had duly been granted.
The said websites who disseminated the pregnancy allegations have been named as Ghanacelebrities.com and Ghanaslayers.com.
The two websites recently reported that the News360 presenter was pregnant; and that four married top politicians in the country were responsible for her pregnancy.
In a statement released by the TV news anchor dated July 16, 2019, she described the allegations as false, and an attempt to tarnish her hard-earned reputation.
''My year's leave, which I announced on the concluding segment of News360 June 2019, is due to a personal desire to further my education abroad while preparing for my upcoming nuptials, in a matter which would not impede on my capacity to perform my professional obligations. This continues to be the reason for which I took a year's unpaid leave and for which I and my family have the financial luxury to afford as opposed to the report's insinuation".

Ms Fort also in the statement indicated that per her upbringing and familiar values, nothing will ever drag her into sleeping with married men or colleagues since it would be ethically or professionally unwise for her to do so.

"No objections to those who consent to sexual affairs with married men as the report suggests I did. Fortunately, my upbringing and familiar values do not coincide with such choices and neither do my professional ethics ascertain sexual affairs with colleagues, regardless of how amicable".
Ms Fort further threatened to take legal action on two entertainment portals that published an article about her sleeping around with some married men.
Below is the full statement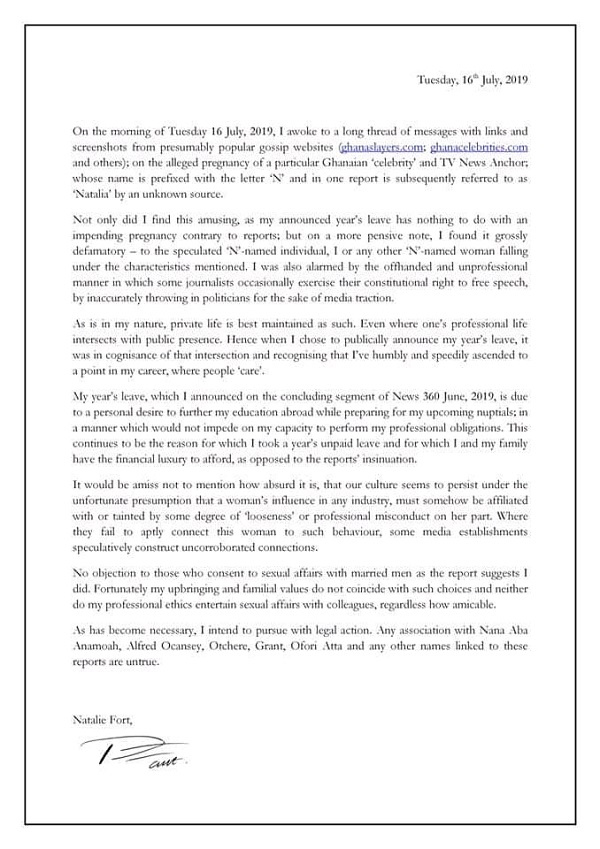 READ ALSO :