A very famous Calabasas resident awoke on her birthday to a string quartet and a rose-filled room last week, a gift from her rapper boo.
No, we're not talking about Kimye, but Kim's suspiciously similar looking half-sister Kylie Jenner and her boyfriend, Travis Scott. It would seem Travis took a page out the old Ye book in ringing in the youngest (and richest) KarJenner's birthday.

But the presents didn't stop at just live music and roses. Travis also gifted Kylie a diamond-encrusted butterfly chain that's valued at $60,000. Looks like he really wanted to pull out all the stops for his new girl. You may recall that the butterfly is a relationship motif of sorts for Travis and Kylie (Trylie? Kyvis?), as the couple has matching butterfly tattoos.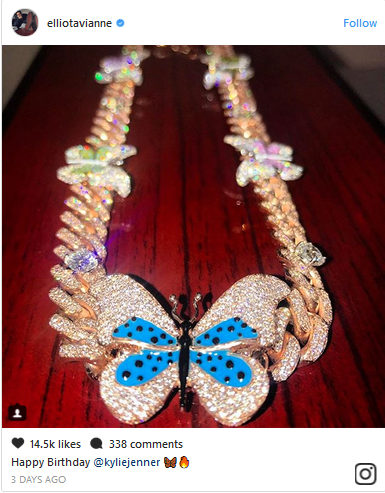 At Kylie's surprise party that was attended by her family, Travis allegedly gave her this cake, above, that reads "I love your phat p***y." Romantic!
Source:bet.com