Thursday evening. I was sat in a sofa at home. I was listening to downloads of BBC's Radio 4 Podcast, Soul Music.
I am addicted to the show and have all the episodes stored on my old fashion iPod. Though I have listened to all the episodes, there are some I often go back to, from time to time, just rework how each song impacts the lives of the characters interviewed. On this very Thursday night, I was overcome by emotions after attentively listening to the narration of one of the voices whose nephew was killed in the December 2004 tsunami, in Thailand.
And as his tear-soaked voice streams on the face of Redemption Song instrumentals, recalling the relative's love for the reggae song which was then booming through a speaker from the distance, amidst the cracking waves of the ocean, I told myself I was not going to go to bed with an eerie feeling.
I picked my phone and went onto Twitter to check if I could come across any gossip that will make me laugh. Fortunately for me I saw the hashtag #GaSpace. It was around 10pm. I wondered how on earth will anyone be hosting a Space at this time of the night. Out of curiosity I joined the space.
READ ALSO: 'Ghana Month: When the native tongue is a crime. Part 2.' by Anny Osabutey
The first greeting I heard was a sweetly crude Ga phrase that is often used as a way of endearment. Anyone Ga-Dangme indigene or even those who are not but fluently speak the language, a friendly conversation is never completed without the phrase. Anyway, for those who are not familiar with what @TwitterSpace is, it is an added feature to the platform which allows people to host live audio conversations on any topic of their choice. I have so far participated and contributed to conversations in football, food, paintings and more.
But one that I always look forward to is the #GhanaSpace, which I find extremely exciting, engaging and mentally stimulating. I am new to the folks behind it but I feel so much accepted and loved by everyone. Almost everyone who has been on the platform as a first timer feels the same way.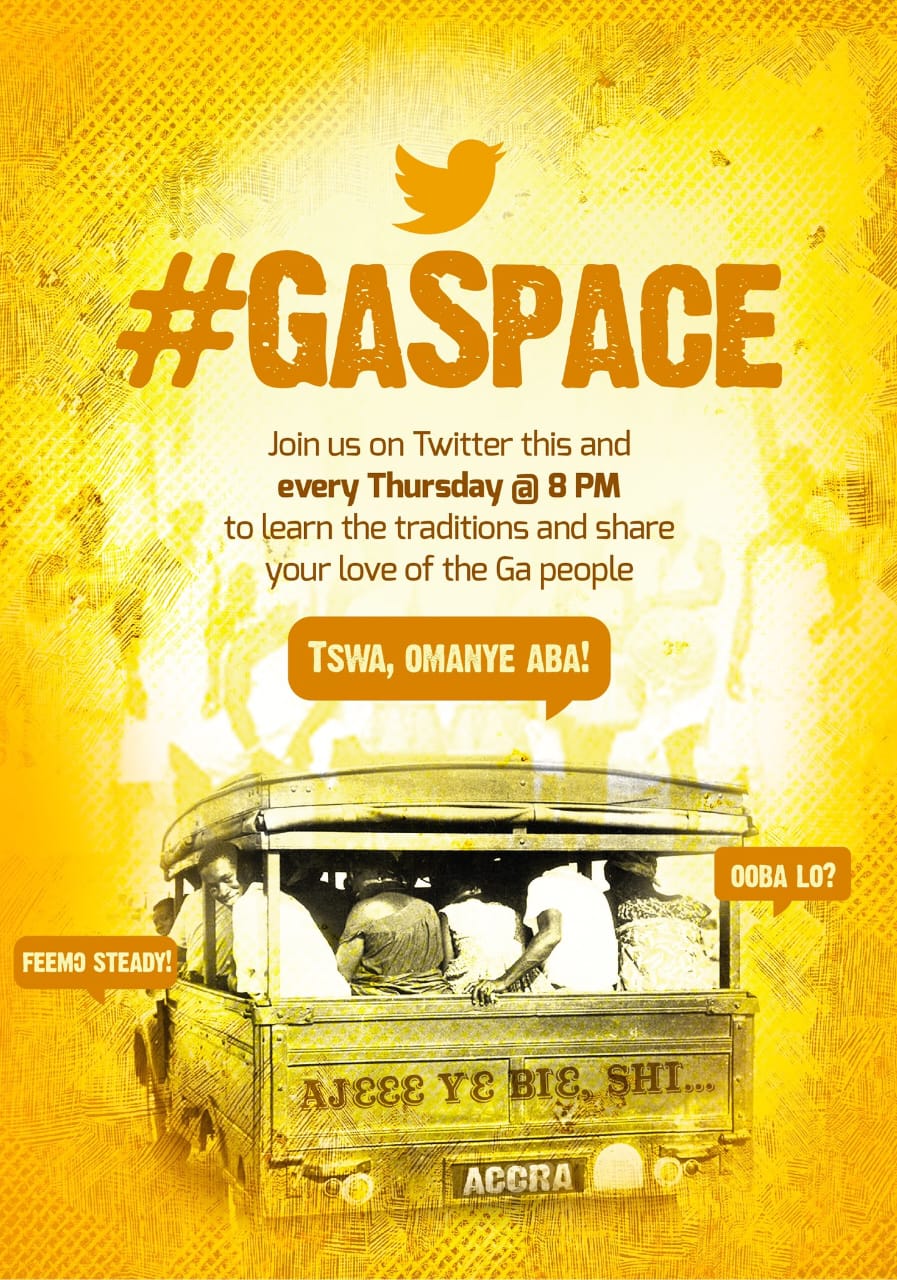 Contributions on the platform are made without any bias and though a space dedicated to the Ga-Dangme speaking community, it is very much accessible to non-indigenes who speak the language. At the last engagement, the topic was on communities/neighbourhoods or "Akotseeiii" where participants grew up, their fond memories and some of the games unique to the areas and how their lives were impacted.
Guests or participants come from diverse career backgrounds; human rights experts, communication specialists, human relations practitioners, entrepreneurs, digital marketers, photographers, teachers, nurses, medical doctors' artists and more. There have also been silent participants like Cina Soul, one of Ghana's best recording artists and 2014 Vodafone Ghana Music Icons finalist. She is the voice behind the popular soulful Ga song, Ojorley (a Ga word for girlfriend). Her collaboration with Akwaboah, Obiaa, has more than a million views on Youtube.
The program had some greats guests who are Ga-Dangme's by language. CNN award winning and former multi-media journalist Gifty Andoh Appiah, who was the face of Joy News's flagship programme 'The Pulse' took part in the conversation. Gifty gave an insight into her upbringing, highlights of her career and how she developed a taste for the language.
One of the brains behind the #GaSpace and Co-host is Ni Sapei Hornsby. He is known on Twitter by the handle @hornsby. He is a media relations expert. He says the #GaSpace started in July 2021, not as a Twitter Space programme, but a medium to engage Ga-speaking people in the areas of culture and current affairs.
"Obviously, there were Twitter Space programmes, but none was in Ga. Indeed, there were Twitter Spaces in Twi but they were not programmes...that is to say, they occurred on whims of a Twitter user and had no set time or pre-programme production."
The #GaSpace, he adds, is the first Ghanaian language Twitter Space programme at the moment.
Naa Ayele Aryee, a Digital Creator and the brain behind @BankuTs3, a Ghanaian food brand of banku with associated tools, is one of some of the compelling female voices on the programme. You should join the show every Thursday at 8pm and listen to how she puts the fear of the Ga woman in the stubborn Ga boys.
Tswa Omanye Aba!!
Anny Osabutey (PrampramFisherman) is an avid country traveler, broadcast journalist, writer, documentarian, amateur filmmaker/photographer and Co-founder of the Prampram Tourism Centre.
Twitter: @annyosabutey