Asantehene Otumfuo Osei Tutu II on Thursday, 23 August 2018, paid a historic visit to Kyebi to Okyehene Osagyefo Amoatia Ofori Panin II.
 Asantehene Otumfuo Osei Tutu II the 16th occupant of the Golden Stool, visited Kyebi as a special guest of honour at the 75th anniversary of the death a former Okyehene Nana Sir Ofori Atta who is recognized for the transformation of Akyem Abuakwa in the Eastern region. 

They demonstrated what modern chieftaincy stands for - unity and development.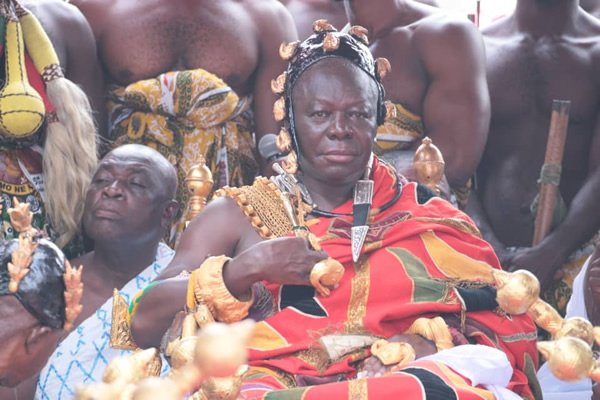 The ancient cloth which is sublime was first worn by the Asantehene, Otumfuo Osei Prempeh I during the restoration of the Asante Confederacy in 1935.History explains that The Asantehene's cloth signified peace and unity, as he was visiting Akyem Abuakwa Traditional Area for the first time.
There was a display of extraordinary traditional extravaganza.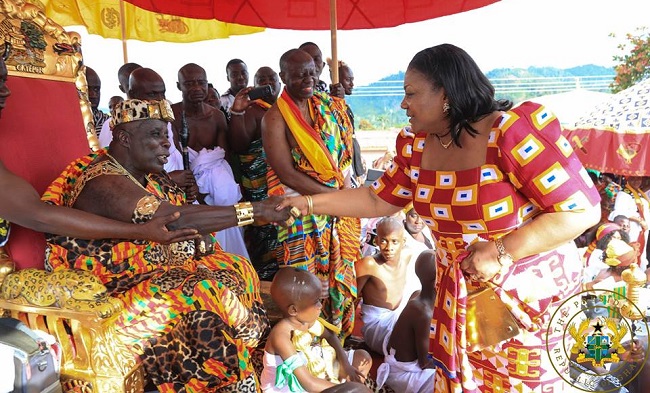 The programme was attended by President Akufo-Addo, 
ex-President Jerry John Rawlings and his wife, Nana Konadu Agyeman-Rawlings and other dignitaries
The Asante Monarch, after descending from the palanquin, shook hands with the Okyenhene.
This will go down history as one of the most memorable days in the annals of the Ayem and the Asantes.
Read also: Consult traditional leaders in the enactment of laws­- Asantehene