At the Makola market in Accra, Fire gutted some shops around the State Insurance Company (SIC) mall.

The inferno, which occurred yesterday being Christmas Day, has left many items of the shops destroyed.
Three out of the five floors of shops had their wares completely burnt with the other two salvaged.
According to an eyewitness, she claimed a man had to personally ride a motorbike to the offices of the Fire Service which he ended up, unfortunately, knocking down a ''kayayoo'' before they were able to respond.
It is unclear yet what may have led to the fire, but personnel from the Ghana National Fire Service (GNFS) had a difficult time bringing the fire under control because of the flow of electricity at the time.
READ ALSO:PHOTOS: Fire kills pastor's wife, 3 children and mother-in-law in Accra

Aside from this, there has been no other casualty.
 The deputy Chief Officer Kweku Manu Afful, the Director of Operations at the GNFS in an interview said "What made the fire fighting difficult was that electricity was flowing throughout the fire fighting. We called the ECG officials to cut off the power which they did, yet we had challenges because our men were receiving shocks."
According to Mr.Kweku Manu Afful, the only a duty officer sustained an injury, and has been sent to the hospital for treatment
"The duty officer sustained injuries. He had cuts on his hand and face from broken glass, but he has been taken to the hospital. Apart from that, all our men are intact. There are no casualties and no one has died, he added.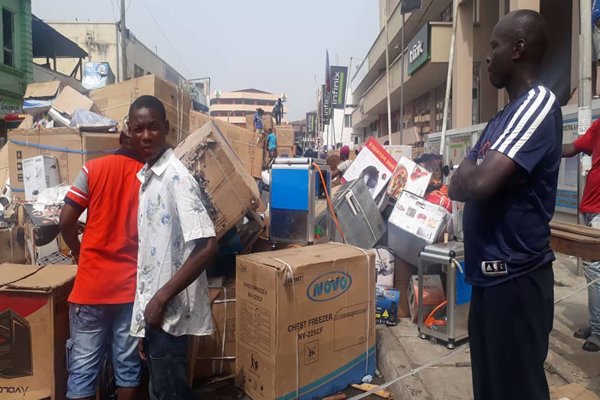 Some items that were retrieved from the inferno