President Akufo-Addo has granted presidential amnesty to 808 convict prisoners.
According to a statement from the Prison Service signed by Director-General Patrick Darko, His Excellency President Akufo-Addo upon the recommendation of the Prison Service Council and in consultation with the Council of State has already in accordance with Article 72(1) granted amnesty to 808 convict prisoners.
The prisoners include; first offenders-783, seriously ill -11, Inmates on death roll- 7, Inmates serving life sentence -4, very old prisoners 70years and above - 3.
READ ALSO :Â Â Covid-19Â : Health Ministry receives PPEs from WHO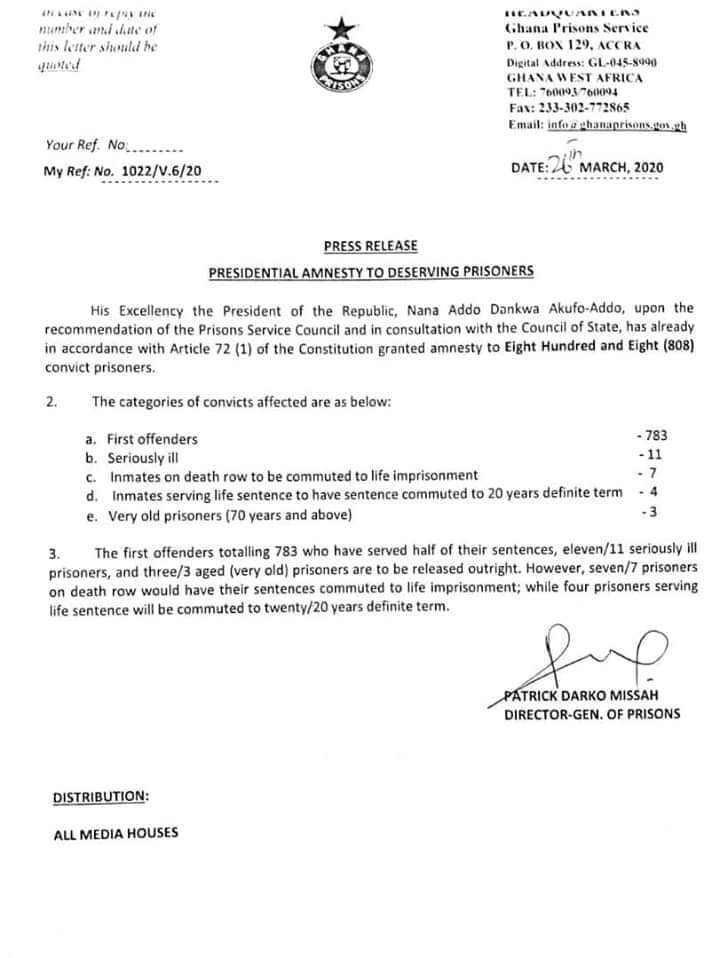 Decongest Ghana's prisons now - Minority to Akufo-Addo
The Minority in Parliament has earlier called for the immediate decongestion of Ghana's prisons over the fast-spreading Covid-19 in the country.
Speaking on the floor of Parliament today March 26 2020, Minority Spokesperson on Defence and Interior, James Agalga said the call on the President to grant pardon to inmates constitutes strategies that should be deployed to deal with the Covid-19 pandemic.
''The prison's population is about 14,000 and yet our prisons facilities can only contain 8,000 inmates. So what that simply means is that the overcrowding in our prisons is over 50% and yet we are all under threat of this coronavirus pandemic.
He further indicated that: ''My suggestion is that, this is the right moment for the President to consider the option of exercising the prerogative function of mercy under the constitution to grant pardon to at least the petty offenders that have been incarcerated within this period so that at least we can decongest our prisons. God forbid if there is an outbreak in the prisons we are headed for a disaster''.