The Driver and Vehicle Licensing Authority (DVLA) is to begin electronic vehicle registration this month.
The Chief Executive Officer of the DVLA, Mr. Kwasi Agyeman Busia, has announced that the registration is aimed at transforming the way vehicles are registered and set new benchmarks in the sector.
According to CEO of DVLA, when the project is fully deployed and optimised, a vehicle could be registered within an hour.
Mr Busia, who was speaking at the inauguration of a new DVLA office in Wenchi in the Brong-Ahafo Region shortly before the Christmas holidays, said the authority was also partnering the Environmental Protection Agency (EPA) to implement national standards on vehicle emission.
That, according to him, was necessary to reduce air pollution, ill health and other respiratory problems and protect the environment.
Over the years in the Brong Ahafo Region, vehicle and motorbike owners, as well as drivers, had to travel to Kintampo, Techiman or Sunyani for any of the services to be rendered to them.
Mr Busia said work had begun on the construction of the Wenchi private vehicle testing station and was expected to be launched in July 2019, explaining that the project, comprising a DVLA office and a testing station, would eventually provide the municipality with a complete package for licensing drivers and vehicles.
READ ALSO:TIN needed to register new vehicles from Jan 2- DVLA
Mr Asiamah entreated road users to obey road safety regulations and signs to help reduce the rate of road accidents and their associated effects on families and properties.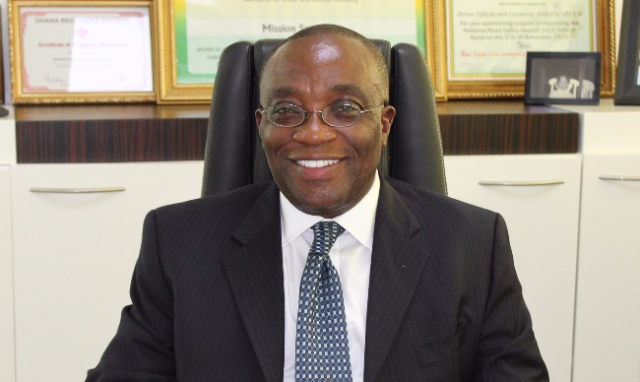 CEO of DVLA, Mr. Kwasi Agyeman Busia 
He added that out of 3,549 people who lost their lives did so as a result of motorcycle accidents.
CEO of DVLA, Mr. Kwasi Agyeman Busia said "The statistics from the National Road Safety Commission, to me, are frightening and I entreat all, including pedestrians, to safeguard their lives as they walk along and cross the roads," he advised.