Effective Thursday, February 28, 2019, the Passport Office and the Regional Passport Application Centres will cease to process manual passport applications.
This was included in a statement issued on January 28 2019, by the Ministry of Foreign Affairs and Regional Integration.
According to the Foreign Ministry, it is part of efforts to migrate old manual passport application forms to the new manual downloadable passport application forms.
The old manual passport application forms were obtainable at selected banks upon payment but the new application process is done electronically.
The e-payment is either made via Vodafone Cash, MTN Mobile Money, MasterCard or Visa Card.
READ ALSO: Ghanaian passport ranked 77th strongest globally
Below is the release issued by the Ministry of Foreign Affairs and National Integration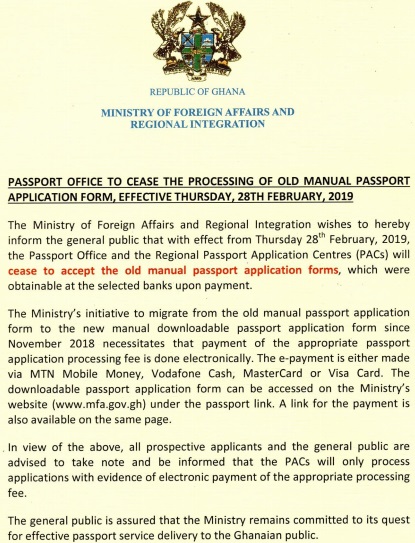 Ghana News: Latest news in Ghana