The government has finally lifted the ban on Small-scale mining, effective Monday, December 17.
Prof. Kwabena Frimpong Boateng who is the Minister for Environment, Science, Technology & Innovation made the announcement on Friday, December 14, 2018.
He added that the ban which has lasted for almost two years was being lifted because an Inter-Ministerial Committee on Illegal Mining has successfully developed a comprehensive policy framework to regularise small-scale mining across the country.
He, however, stressed that only small-scale miners that have had mining concessions validated will be allowed to mine in designated areas.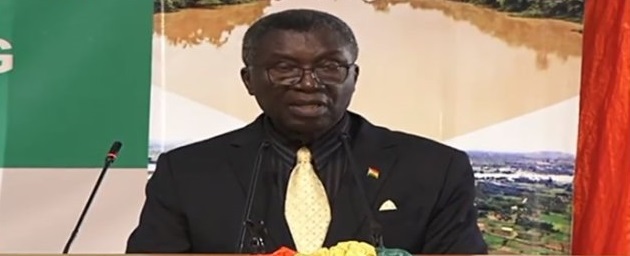 Minister for Environment, Science, Technology & Innovation, Prof. Kwabena Frimpong Boateng
"The ban on small-scale mining is being lifted for the compliant ones to go back to work within the regularised and reformed framework. The list of complaint miners will be published in the electronic and print media on Monday, 17th December 2018," the Minister said during the launch of the framework.
The event which was held at the Accra International Conference Centre (AICC) and saw major stakeholders in the mining industry as well as key individuals and groups pushing for an end to illegal small-scale mining all attending.
The Minister explained that information on vetted artisanal miners will also be made available on the notice boards of municipal and district assemblies.
"Unregistered or illegal miners who were referred to as 'galamseyers' are being organised into community mining cooperatives and provided with concessions to work legitimately under the supervision of the district committees," he revealed.
Background

The government imposed the ban on small-scale mining as part of a frontal attack on the activity in line with President Addo Dankwa Akufo-Addo promise to sanitise the sector at his inauguration as President.
Small-scale miners, some of whom are foreign nationals, flout environmental rules and use dangerous chemicals like mercury to mine, polluting freshwater bodies that support ecology or serve as strategic sources of drinking water.
The ban was scheduled for lifting in October 2017 but it was extended.
The extension angered the Small-Scale Miners Association of Ghana.
After unsuccessful threats against the government, the Association began lobbying the government to regularise the system and lift the indefinite ban.
The government then announced the policy to sanitise the sector, dubbed the Multi-sectoral Integrated Mining Project (MMIP), as well as alternative livelihood projects as part of preparatory steps to the lifting of the ban.
Read also:
Gov't begins vetting of small-scale miners tod