Ghanaian actor and Politician John Dumelo is begging the Canadian security experts who helped rescue two of their nationals who were kidnapped in Ghana to assist us in finding the kidnapped Takoradi girls.

The kidnapped Canadians, Lauren Patricia Catherine Tilley, 19; and Bailey Jordan Chitly, 20, who were kidnapped last week, were freed in the early hours of Wednesday, 12 June 2019 at Sawaba, Kumasi.
Mr Dumelo reacting to the news asked the Canadian experts to assist in finding the Takoradi girls.
He took to Twitter and wrote: "Can the Canadians who came to rescue the kidnapped Canadian citizens please stay on for like a week more and help us find our missing Takoradi girls? I will pay for accommodation I beg," the award-winning actor said in a tweet.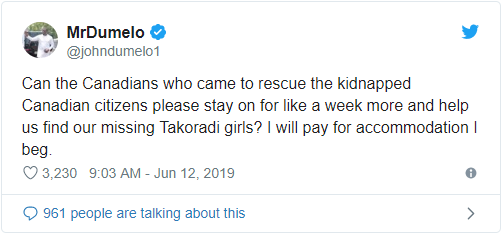 The Takoradi kidnapped girls are 18-year-old Priscilla Mantebea Koranchie, last seen on 21 December 2018; 21-year-old Priscilla Blessing Bentum, last seen on 17 August 2018; and 18-year-old Ruth Love Quayson, last seen on 4 December 2018.
Canadian girls rescued
The two Canadian ladies who were reportedly kidnapped last week in Kumasi, the Ashanti Region capital, have been rescued by police.
Lauren Patricia Catherine Tilley, 19, and Bailey Jordan Chitly, 20, were rescued last night in Sawaba, a suburb of Kumasi.
The two ladies were not abused, according to reports. Two suspects have been picked up while two others are on the run.
A statement released by the Information Minister, Kojo Oppong Nkrumah, on Wednesday morning revealed that the rescue operation was carried out by National Security Operatives in the early hours of Wednesday, June 12, 2019.
"Details of the operation and ongoing efforts to ensure that similar incidents are successfully resolved will be made available in a subsequent press briefing scheduled for 15:00 hours today [Wednesday].
"Government continues to encourage the media and commentators to be circumspect in public commentary on security matters in order not to compromise other related operations," the statement urged.
READ ALSO: