Ghanaian business mogul, Ibrahim Mahama has been named the industrialist of the year at the 2018 edition of the African Achievers Award.
 The African Achievers Award has consistently honoured great African achievers from African leaders, young achievers and community builders to captains of industry across the continent.
The awards ceremony has been established as one of the biggest gatherings of influential and global African achievers on the continent.
At the 8th Edition of the awards ceremony held at the House of Parliament, London, Ibrahim Mahama was presented with the award by Lindsey Oliver, a Co-Founder of the Aljazeera news channel.
Receiving the award, Mr. Mahama conveyed his appreciation to the organizers of the event for the great honour done him and his company—Engineers and Planners.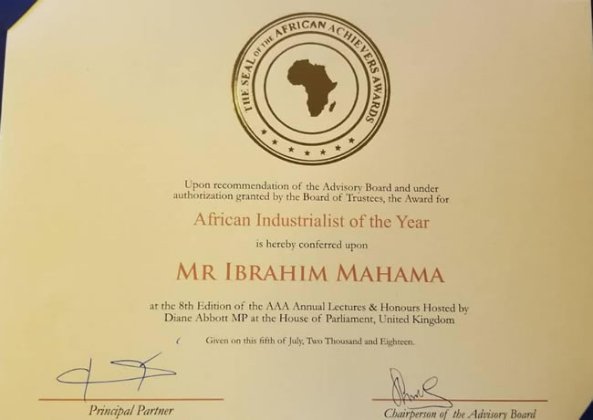 "I dedicate the award to the memory of my father E.A. Mahama and my mother Joyce Tamakloe, both of whom were entrepreneurs," he said.
He also dedicated the award to the hard working management and staff of Engineers and Planners, whose untiring efforts have elevated the company to this stage.
Mr. Ibrahim Mahama emphasized his confidence in the African continent, saying "I believe that opportunities exist for us as Africans to capture the commanding heights of our economies. As the youth of the continent, we must think outside the box and seize the bountiful opportunities that abound right beneath our noses".
The businessman also expressed his belief that receiving this award would spur other young Africans on to aspire to establish their own businesses and take advantage of the opportunities Africa has to offer.
Read also:  Bawumia receives appointment to UN board