Minister-designate for Information, Kojo Oppong Nkrumah says the government will create more jobs in the country and the Nation Builders Corps (NaBCo) is just the start of that plan.
Oppong Nkrumah speaking with Daniel Dadzie, host of the Super Morning Show on Joy FM after 100, 000 youth graduated as part of the Nation Builders Corps (NaBCo), said the aim of the government is to improve the economy and job creation is one of the ways to do so.
"[NaBCo] is just one of four pillars to deliver on our agenda for jobs," he said about NaBCo.
Hon. Oppong Nkrumah added that the NaBCo will not only curb the unemployment situation in the country but will also help many to get sustainable jobs when their time of exit is up.
"Today, we are having in yet another programme, 100, 000 young Ghanaians who previously would have been unemployed who are being put into this programme and what is instructive is that we have a clear exit path that ensures that they get into the world of sustainable work,"
What is NaBCo
NaBCo is established by Nana Akufo-Addo's government to address economic challenges caused by lack of employment.
It is designed to provide jobs to unemployed graduates.
The new NaBCo graduates will be given jobs in modules dubbed Civic Ghana, Revenue Ghana, Educate Ghana, Enterprise Ghana, Digitise Ghana, Heal Ghana and Feed Ghana.
The enlisted personnel have gone through several weeks of rigorous training and capacity building programmes in their chosen schedules and will be working for three years and will receive a monthly stipend of GH¢700.00.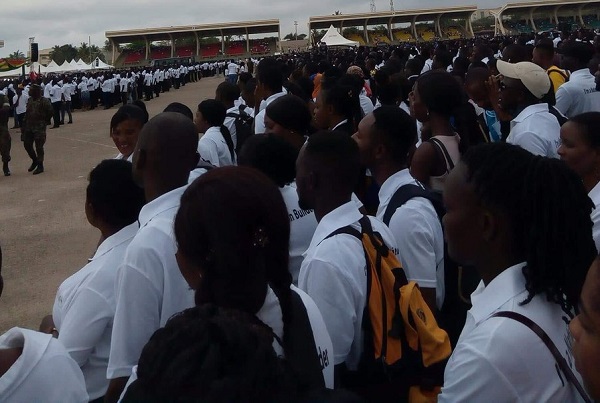 Read also:
Girls, Girls Movement commend gov't over NABCO
Unemployment in Ghana
Recent World Bank report on jobs in Ghana shows that about 48 percent of the youth in Ghana – most of whom are university graduates – between 15 - 24 years do not have jobs.
According to the report, however, there has been an increasing trend towards the expansion of the urban informal sector and a decline in opportunities for productive employment in the formal sector.
Consequently, the unemployment among the economically active population in Ghana is still high. Under-employment is also a major problem especially among women engaged in agriculture in rural areas.
In part, this situation has been attributed to weaknesses in the employment environment including gaps in information on the labour market.
Ghana News: Latest news in Ghana