Prof. Bill Buenar Puplampu has been inducted into office as the Vice-Chancellor, VC, of Central University CU. He becomes the fourth Chief Executive Officer and 2nd Vice Chancellor of the University since its establishment 19 years ago.
He takes over from Prof. Kwesi Yankah who resigned his position to take up appointment as Minister of State in Charge of Tertiary Education. Until his appointment, Prof Puplampu was the Pro-Vice Chancellor of Central University.
Rev. Dr Mensa Otabil, Chancellor of the University who chaired the induction charged the new Vice-Chancellor to pursue and champion the Christian agenda and inculcating ethical values into products of the University whiles working at making Central University a citadel of knowledge and development in a society which increasingly commodifies knowledge.
"As you assume the reigns of leadership, we believe that you will champion the distinctly Christian agenda and nature of this institution, an experiment we have been working at but not fully achieved as yet. We hope that you will try to answer the difficult but critical questions of how we can become and remain a Christian University", he said.
Handing over the baton of office to the new VC, the immediate past Vice-Chancellor, Prof Kwesi Yankah expressed his commitment to support the University at all times. He was grateful to the University Council, staff and students for the opportunity to serve as Vice-Chancellor. "Central University introduced me to private sector and faith-based University administration. CU opened up to me the opportunities that currently drive my professional life and I am grateful" he said.
Prof. Bill Puplampu in his induction bemoaned the near absence of policy direction regarding the development of appropriate human capital, and higher education needs of the country going into the future. "Ghana seems to have moved through a variety of reforms, experiments and explosion in a deregulated educational space" he stated adding that "we have a situation where we are overproducing certain types of skills (leading to unemployment of graduates) and grossly under producing others.
"It is perhaps an indictment of our educational policy", he indicated and stressed that any higher education reform, regulatory realignments, and accreditation options must be a deliberate intervention in a futuristic direction for our Human capital agenda.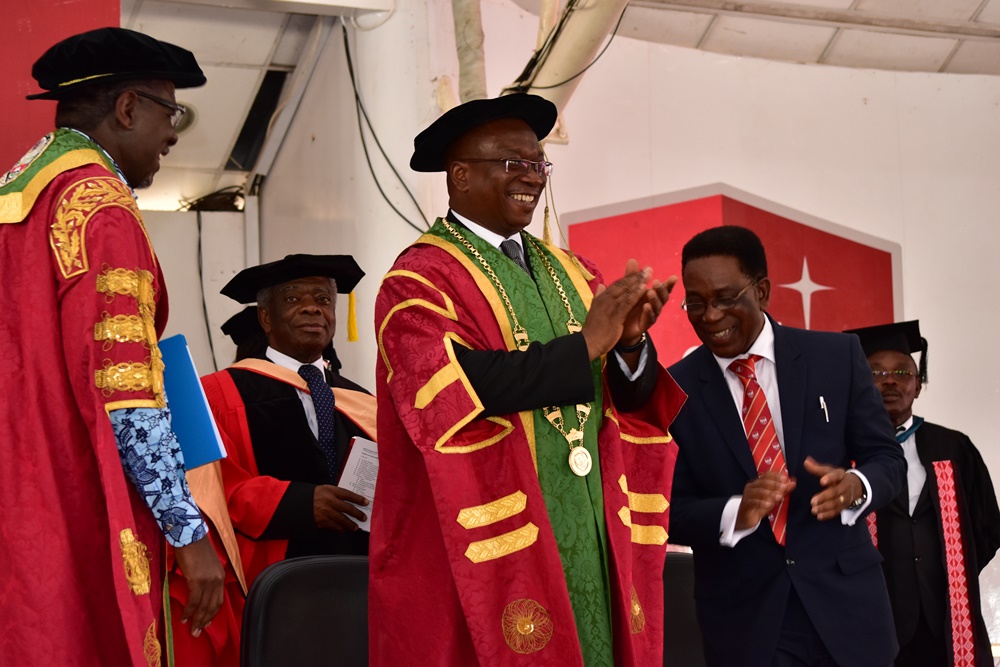 The new Vice-Chancellor also queried the basis of the accreditation of the over 50 private universities; each of which was doing the same set of programmes and also the basis for accrediting foreign universities to also offer similar programs in an already overstretched environment.
Prof. Puplampu also proposed for setting up of one regulatory body to carry out accreditation and also act as a degree awarding body for all universities yet to be chartered. "This will ensure an open equal environment for all the institutions under development and do away with a mentor institution forcing its systems and practices on the new universities. It would also ensure a level playing field, ensure comparability of degrees awarded and facilitate the uniform development of all such institutions, he stated.
On the entry of foreign universities operating in the country, Prof. Puplampu queried the basis for their accreditation and proposed that their accreditation must demonstrate clear linkage to Ghana's Human Capital agenda, and not their strategic expansion needs.
Prof. Puplampu also stated that his vision is to make the Central University the preferred destination for under and postgraduate studies in the private higher education space and also demonstrate the values of a truly Christian University with the enabling environment for nurturing ethical students. He was hopeful that the university under his tenure will become financially stable with an internationalised standard research, scholarship and advocacy footprint.
Prof Puplampu holds a Bachelor degree in Psychology from the University of Ghana, MSc in Occupational Psychology from the Polytechnic of East London. He also obtained his PhD in Organisational Behaviour from the University of   East London in the United Kingdom. Prof Puplampu is a Chartered Psychologist and Associate Fellow of the British Psychological Society with specialization in Occupational and Organisational Psychology.