Otiko Djaba former Minister of Gender, Children and Social Protection has rejected the appointment of President Akufo-Addo as Ghana's Ambassador-designate to Italy.
According to reports, Otiko Djaba is bowing out of mainstream politics to have time with her family.
Otiko Djaba was named Minister of Gender, Children and Social Protection in 2017 by President Akufo Addo.
Otiko Afisah Djaba is 54 years old. She studied Information Systems in the UK, communications in Eygpt and holds a Bachelor of Arts degree in Integrated Development Studies from the University for Development Studies (UDS)  in Ghana.
Otiko Djaba also was the National Facilitator for the Campaign for Greater Discipline under Former Vice President Aliu Mahama in 2004. She worked as a Consultant in Children's Rights and rural women's development for Plan Ghana in extremely deprived rural communities in Sissala districts  of the Upper West Region
In 2008 Otiko Djaba was the New Patriotic Party (NPP) Parliamentary Candidate for the Bole-Bamboi constituency. 
Otiko Djaba has 4 children.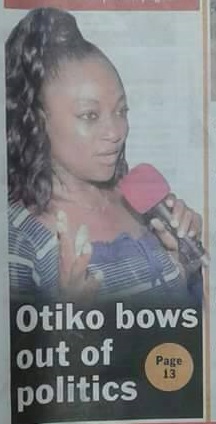 In a related development, A member of the Legal Team of the National Democratic Congress (NDC), Abraham Amaliba has described the utterances of the transferred Otiko Afisa Gjaba as not fit to make her Diplomat.
Gender and Social Protection Minister, Otiko Afisa Djaba was made an Ambassador to Italy in President Akufo-Addo's first reshuffle in his ministerial appointments.
Expressing his disappointment in the Presidents reshuffle, on Accra-based Star FM, Lawyer Amaliba noted a reshuffle is supposed to inject efficiency into government's business but this reshuffle, he believes, has achieved otherwise.