The campaign against illegal mining that was banned in 2014 is yielding positive results since life is returning to River Ankobra in the Ellembelle district. Residents within the area now use water for domestic purposes.
The Ankobra was one of the worst affected and heavily polluted water bodies in the country at the height of illegal mining activities.
Government's intervention seems to have made an impact in the return to life of the famous river.
Until the emergence of illegal mining Ankobra was a major source of clean water for residents in the community.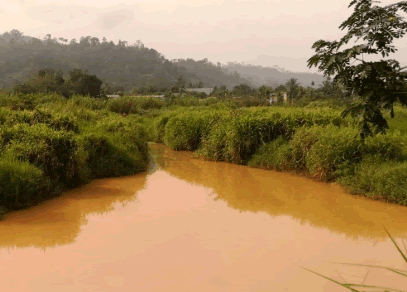 Before the ban on illegal mining, River Ankobrah was heavily polluted

In an interview with citinews monitored by PrimeNewsGhana , residents of the area are happy that the river is clean and safe for use .
READ ALSO:16 Chinese nationals arrested for illegal mining
According to a resident of the area, "Ankobra is now clean, formally it was too dirty in terms of people working at the top now they have stopped working at the top so the water is now clean''.
Another added that "River Ankobra is now better. We get fish from it and are able to use some for cooking, so we are grateful to government for insisting on the ban''.
Residents now fetch water for house chores from the tributaries of River Ankobra.