Founder of the National Democratic Congress (NDC) Jerry John Rawlings has praised late Prof. John Evans Atta Mills.
Rawlings describes Mills as an 'outstanding' personality when the two worked together as President and Vice.
Rawlings was at the Asomdwe Park to lay a wreath on his tomb and pay his respect as today marks 8 years since he passed on.
Rawlings was one of the stern critics of Mills when he was President but says as his vice he exhibited true leadership qualities.
READ ALSO:Â Koku Anyidoho lauds Akufo-Addo for renovation of Asomdwe Park
He took to Twitter today and wrote: "The Atta Mills I knew and worked with as my VP was an outstanding personality. I pray his soul rests in peace."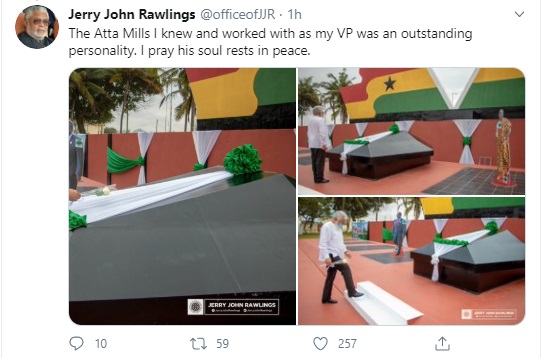 Anyidoho the Founder and Chief Executive Officer (CEO) of the Atta-Mills Institute, today on Happy FM revealed that the late President John Evans Atta-Mills warned him never to speak against former President Jerry John Rawlings.
According to him, many, have misconstrued his nickname 'The Bull' to mean he is an uncouth and loud person, who can be used for their own selfish purposes but that is far from the truth.
He noted that in his position as the Head of Communications at the Presidency during the tenure of the late President Atta-Mills, he was approached by someone from the party to attack former President Rawlings verbally.
Koku noted that because of the father and son relationship he had with the late president, he informed him about the incident and this is the advice he received. "When I went to the president and told him so and so person says I should go after Rawlings, the President exclaimed, herh!! Koku, sit down. And he said, Koku, never, never, never insult Rawlings in your life."
John Evans Fiifi Atta Mills served as President of Ghana from 2009 to 2012.
Previously he was Vice-President from 1997 to 2001 under President Jerry John Rawlings, and he stood unsuccessfully in the 2000 and 2004 presidential elections as the candidate of the National Democratic Congress (NDC).
He died in office on July 24, 2012, aged 68.