Private legal practitioner and lawyer for former President John Mahama, Tony Lithur is currently in court to divorce his beloved wife Nana Oye Lithur.
Tony Lithur has been married to Nana Oye Lithur for more than 20years. Tony Lithur has 4 children with Nana Oye Lithur.
According to a court a letter of notice to Nana Oye Lithur spotted by Prime News Ghana and dated May 2, 2018, asked the respondent to within 8 days enter on appearance either in person or by solicitor at the Divorce Registry of the High Court, should she think fit to do so and thereafter to answer to a petition.
Prime News Ghana's sources have also revealed that one of the major reasons why Tony Lithur is in court to divorce the former Gender Minister, Nana Oye Lithur is due to some "cruel and violent traits" of Nana Oye Lithur.
Portions of the petition read; "When the parties settled down to marriage, petitioner began to notice some unnerving character traits of the Respondent. While petitioner was aware Respondent was aggressive in approach to many things, nothing prepared him for what he later discovered of cruel and instinctively violent traits. She consistently exhibited physical violence and cruelty against every person that has ever lived with the parties, either as household staff or relative," the petition said.
Nana Oye Lithur and Tony Lithur are both Lawyers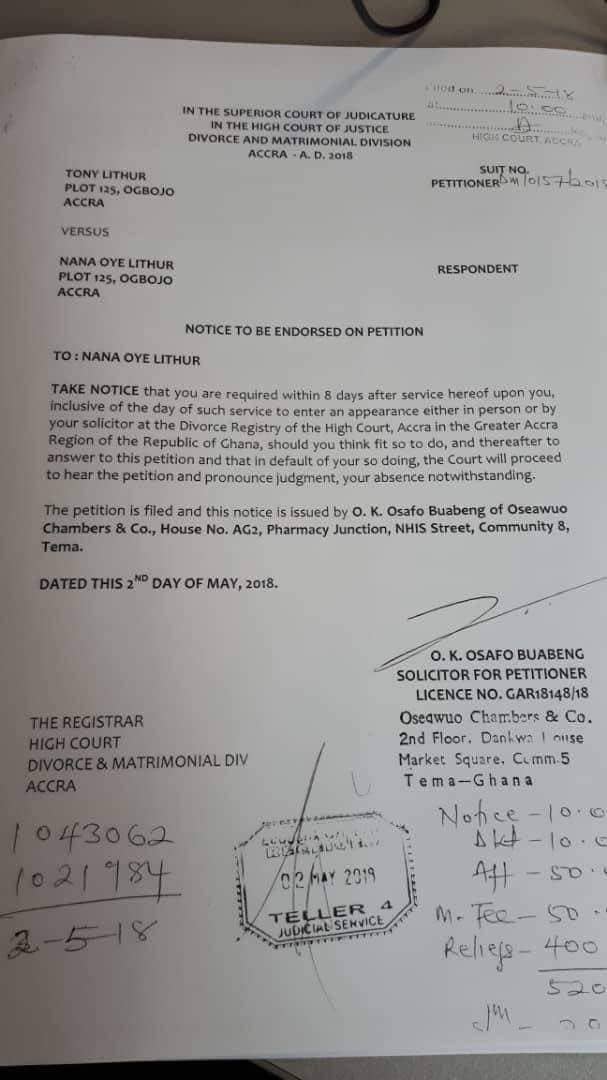 Ghana News: Latest news in Ghana